Slim in Talks to Repair Mexico Metro, Avoiding Court Battles
(Bloomberg) -- Billionaire Carlos Slim wants to help Mexico City quickly repair a section of the metro that collapsed last month and which his company built, President Andres Manuel Lopez Obrador said Wednesday.
Other companies that built the line are willing to help with the repair, Lopez Obrador said at his daily press briefing, a day after meeting with Slim. The collapse on the Line 12 killed 26 people in May.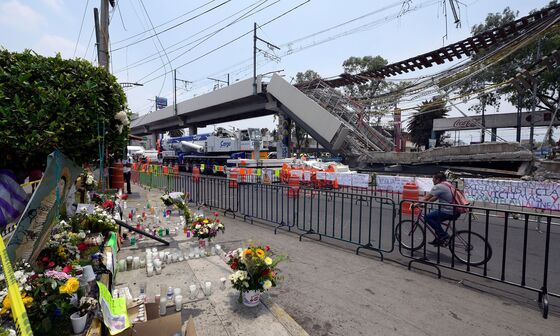 Slim's goodwill should help avoid protracted legal battles over the case, the president said, adding that prosecutors must still investigate and deliver justice for victims' families. While a city-commissioned study found fatal construction flaws caused the crash, the president hasn't attacked the companies that built the line, avoiding the confrontational style he reserves for foreign businesses he says have exploited Mexico.
"The aim is to rebuild the line as soon as possible," Lopez Obrador, known as AMLO, said. "I've had differences with Carlos Slim but I recognize that he is an institutional person and he has a social dimension, and he doesn't play at arm-wrestling with legal authorities."
AMLO's meeting with Slim on Tuesday included Mexico City Mayor Claudia Sheinbaum. Slim's spokesman and son-in-law Arturo Elias Ayub didn't immediately reply to a request for comment.
Bloomberg News previously reported that a person close to the president said Slim's Grupo Carso will not lose existing government contracts or potential future work if it abides by any punishment handed out to it.