Slightly Wider Budget Deficit Won't Hurt Poland Rating, S&P Says
(Bloomberg) -- Modest widening of Poland's budget deficit won't risk the country's newly upgraded credit score, S&P Global Ratings said.
The company raised its assessment of Poland to A- last week, reversing a 2016 downgrade that it slapped on the European Union's largest eastern economy over concern its populist government would undermine the functioning and independence of state institutions. S&P said fiscal discipline and robust economic growth outweigh the institutional risks.
"Given Poland´s monetary flexibility (it has a currency that floats, and a large part of public debt is issued in that currency), and reasonable growth prospects, a few years of a modestly widening deficit would be unlikely to move the needle on Poland´s rating," S&P analyst Frank Gill wrote in an email to Bloomberg.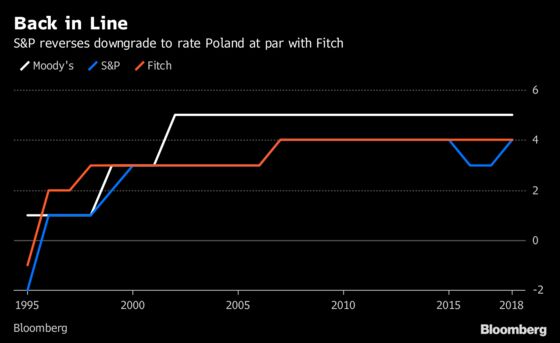 The government is on track to trim the budget deficit to 0.9 percent of gross domestic product this year, according to S&P, as a second year of rapid economic growth fuels additional inflows from value-added and corporate taxes. However, with economists forecasting that the economy moved past the peak of its cycle earlier this year, the risk is that fiscal performance going forward will disappoint.
Poland has been sued by the EU for politicizing the country's courts and some fellow members are threatening to tie EU aid funds to democratic norms, which could diminish a crucial driver for Poland's economy. Gill said the country's institutions remained "less predictable" than those of its peers.
"More than anything else, the rating action reflects the real economy's resilience," Gill said.