Bullish on the Economy? You Might Be a Republican
(Bloomberg) -- While it's true that consumer confidence is high as jobs are plentiful, the sentiment may be heavily distorted by respondents' personal politics. Here's the breakdown between confidence levels among Republicans and Democrats in Bloomberg's weekly consumer comfort index: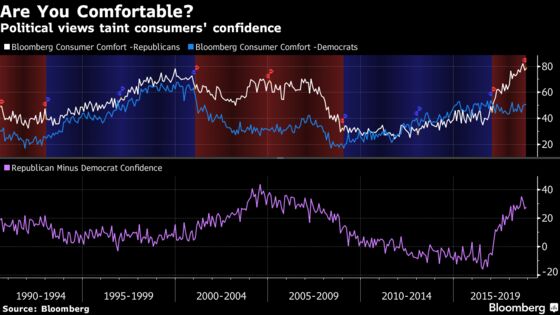 Republicans surveyed have never been this bullish, at least since 1990 when the data set begins, while Democrats are more indifferent about their conditions. The difference between the two is near the highest since the first term of George W. Bush. The polarization became more apparent during Republican presidencies, marked in red.
Some stock-market bears tend to view consumer confidence as a contrarian signal: irrational exuberance leads to overspending, which eventually tips the economy into recession. That's not a valid argument in this cycle because household balance sheets are much stronger. And the fact that confidence is somewhat tainted by one's political views also suggests that exuberance is not as irrational as it appears.