Sky Sales Growth Gives Disney Another Reason to Raise Bid
(Bloomberg) -- Sky Plc gave Walt Disney Co. another reason to consider bidding higher for Britain's top pay-TV company, reporting full-year sales in line with analysts' estimates as its customer base grew.
Disney Chief Executive Officer Bob Iger is weighing whether to trump Comcast Corp.'s 26 billion pound ($34 billion) offer for the broadcaster, part of a wider battle between the U.S. giants for the bulk of Rupert Murdoch's media empire.
"This business has got really good momentum," Sky CEO Jeremy Darroch said on a call with reporters. "Whatever the future holds for any of us, Sky is in a really good place."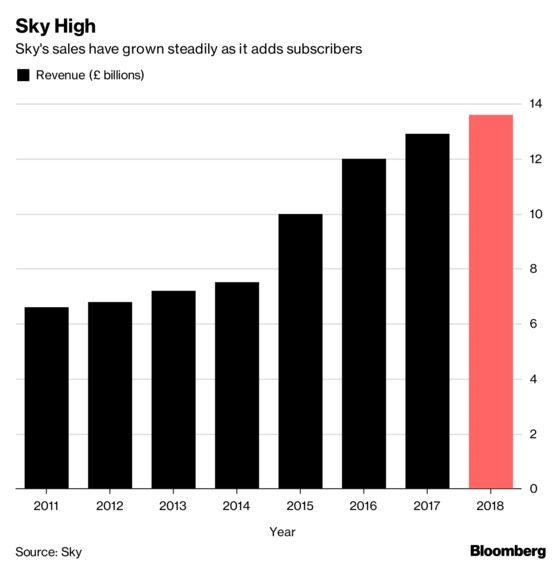 Disney and Comcast are both interested in Sky because it would help them diversify internationally and give them access to Sky's highly-regarded set-top Q box technology and streaming service Now TV.
Sky has 23 million customers in five European countries and a suite of sought-after TV content, including rights to Premier League soccer and premium drama, which would be useful in the fight against online rivals such as Netflix Inc. and Amazon.com Inc.
Whoever wins the tussle for Sky will inherit a growing business: full-year revenue was up 5 percent to 13.59 billion pounds and Sky added over 500,000 customers in the fiscal year that ended June 30. The revenue figure was in line with the average of 17 analysts' estimates compiled by Bloomberg.
Sky's shares rose 0.1% to 15.09 pounds at 9:12 a.m. in London, 2 percent above Comcast's offer price of 14.75 pounds per share.
Darroch declined to say whether he and Chief Financial Officer Andrew Griffith would stay on at Sky after the takeover battle ends, saying it was too early to speculate.
"We haven't had any of those conversations," Darroch said. "We'll do that at the right time when one of the companies emerges."
A Disney-backed 21st Century Fox Inc. bid for Sky -- first announced by Fox in December 2016 and raised this month -- is currently 6 percent below Comcast's rival offer. Disney must give Fox consent to raise the bid, and Fox has until Aug. 9 to formally put its offer to Sky's shareholders.
Separately, Disney is in pole position to acquire most of Fox, including its existing 39 percent stake in Sky, after Comcast signaled it would no longer pursue the bundle of Fox assets. Those include Fox's move studio and cable networks FX and National Geographic.