Ski in Italy? Not This Year as Virus Shuts Slopes Across Alps
(Bloomberg) -- Italy's ski season is coming to an abrupt end--not due to a lack of snow or cold, but because of concerns about fever.
Though slopes typically remain open into April or even May, the spread of the coronavirus across northern Italy has prompted the country's best known and biggest resorts to shut their lifts for the rest of the season.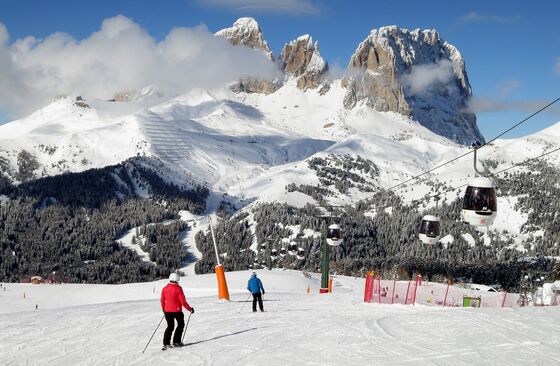 On Sunday, the government ordered ski areas in the Lombardy region, around Milan, to close as part of far-reaching measures to contain the virus. On Monday, Courmayeur, on the Italian side of Mont Blanc in the Val d'Aosta region, powered down its chairlifts and cable cars.
Then the Dolomiti Superski area, Europe's largest resort, said its season would end Tuesday afternoon despite excellent conditions, with more than 1.5 meters (five feet) of snow across much of the region. The FIS Alpine Ski World Cup Finals scheduled for March 16-22 in Cortina d'Ampezzo, were also canceled.
The shutdowns are a further blow to Italian tourism, which last year brought in some 40 billion euros ($460 billion) across the country, accounting for 13% of gross domestic product. Since late last month, when Venice canceled the final days of Carnival and Milan began imposing restrictions on travel, bookings and revenues across the north have plummeted.
"We are extremely sorry to have to take this absolutely exceptional decision," Dolomiti Superski, which includes 12 resorts, said in a statement. "But we believe this step is of fundamental importance to stem as far as possible even in our territories with a very high tourist density, the rapid spread of the coronavirus."