Skechers Surges on Its Quarterly Sales Forecast
(Bloomberg) -- Skechers USA Inc. surged as much as 22 percent after the sneaker maker forecast sales that topped analysts' estimates.
The company's stock has moved at least 20 percent after four of its past five quarterly earnings reports, twice up and twice down. The shares climbed as high as $31.97 Friday in New York, the biggest intraday jump in a year.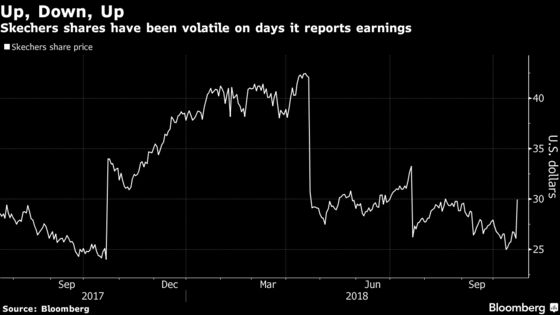 Business grew both domestically and abroad in the third quarter, the company said. Three months earlier, it reported for the first time that a majority of its sales were coming from outside the U.S. The gap grew even larger last quarter.
"We continue to see international as the biggest growth opportunity for the company," Chief Operating Officer David Weinberg said on a conference call.
Sales this quarter will be at least $1.1 billion, Skechers said. That compares with the average $1.08 billion estimate of analysts. The company posted profit of 58 cents a share last quarter, which topped projections by 7 cents.
The report wasn't all positive. Same-store sales missed estimates and growth in its home market remained sluggish at 1.8 percent. Skechers Chief Financial Officer John Vandemore said the company expects to see increased domestic growth in the next three months.
The company offers limited visibility into its expectations moving forward. Skechers only gives projections quarter by quarter, though the company has said it is considering full-year guidance. That could be a welcome shift for investors.
The shares pared some of the day's gains and traded at $29.58 at 12:25 p.m. They had lost 31 percent this year through Thursday's close.
Skechers shares rose 41 percent on its third quarter earnings last year. It then dropped 27 percent in April, and 21 percent in July after growth slowed and expenses came in higher than projected.