Six Out of Ten U.S. Firms Raised Starting Wages by 10% in Survey
(Bloomberg) -- About six out of ten companies are increasing starting wages, by an average of 9.8%, to try to fill job vacancies, according to a survey of U.S. chief financial officers.
Almost three quarters of the respondents said their companies are having difficulties hiring. Among them, a third are implementing or exploring automation to replace workers, according to the CFO Survey, a collaboration of Duke University's Fuqua School of Business and the Federal Reserve Banks of Richmond and Atlanta that polled 1,083 finance chiefs last month.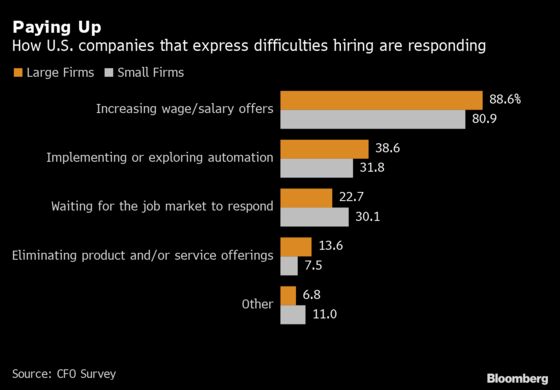 Most CFOs also indicated that their firms are experiencing supply chain disruptions and that these are expected to last well into 2022.
"Large firms are more likely to be taking action to adjust their supply chains, such as holding more inventory, diversifying or reconfiguring supply chains, moving production closer to the U.S., or changing shipping logistics," according to the report. "Small firms note less 'room to maneuver' and are more likely to report waiting for supply chain issues to resolve themselves."