Indonesia Extends Virus Curbs, Plans Booster Shots for Doctors
(Bloomberg) -- Indonesia will extend tighter movement limits to islands beyond Java and Bali, as infections driven by the delta variant pick up across the country.
Regencies and cities most affected by the coronavirus will face the same restrictions as in economic centers of Java and Bali islands, including full work-from-home order for non-essential sectors with shopping centers shut and restaurants serving takeaway only, said Airlangga Hartarto, coordinating minister for economic affairs. The new curbs will take effect July 12.
Southeast Asia's largest economy is also the country worst hit by the pandemic in the region. As many as 38,124 people were confirmed to have the coronavirus in the 24 hours through Friday, with 871 dying from the disease. That was the first day in six that Indonesia didn't mark a new record in infections.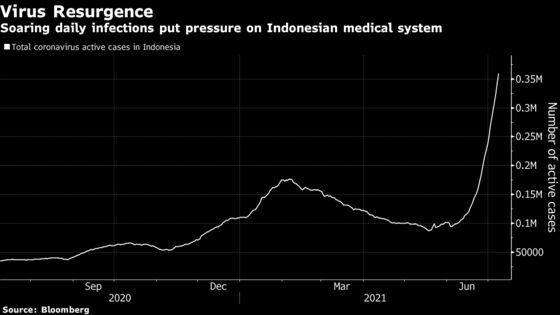 Hospitals in many provinces are running out of beds and oxygen supply, hampering their ability to treat patients with severe symptoms. President Joko Widodo called on students, housewives and community health activists to volunteer at Covid-19 facilities.
The government has been meeting its target of giving out 1 million doses each day in July. It will also give a third shot to 1.47 million healthcare workers using Moderna Inc. vaccine starting next week in a bid to boost their protection against the virus, said Health Minister Budi Gunadi Sadikin. Doctors and nurses had been inoculated using two Sinovac Biotech Ltd. shots.
While Indonesia was among the fastest Southeast Asian nation to secure vaccine deals, it was still hampered by delayed shipment and global shortages. It expects to receive 441 million doses this year, and has enough shots to meet its target through October.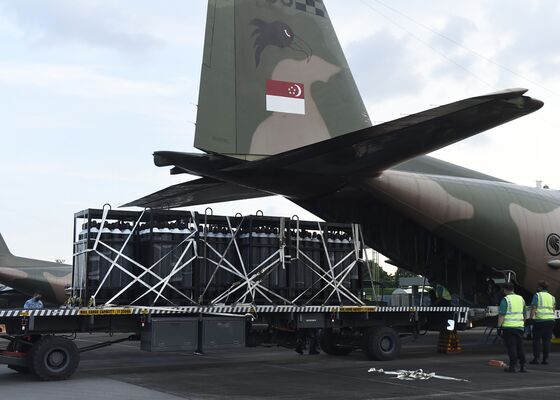 The government seeks to quicken repayments to hospitals for the cost of providing Covid-19 care free of charge, with 17.2 trillion rupiah ($1.2 billion) paid out so far. The Finance Ministry is reallocating spending to set aside 699.4 trillion rupiah toward supporting the pandemic response, said head of fiscal policy agency Febrio Kacaribu.
PT Bank Mandiri, the nation's largest bank by assets, expects it to take three months for the number of daily cases to fall to as low as 4,000, from a record-high 38,391 seen on Thursday, based on the experience seen in January, according to presentation slides by researcher Dendi Ramdani. If the outbreak drags on, the impact would extend to even more industries, so the government should intensively reduce people's mobility, he added.
The government is receiving help from other countries. Singapore will ship hundreds of ventilators and cylinders, along with other medical supplies, while Australia is set to send 1,000 ventilators arriving Friday, according to a statement from coordinating ministry for maritime and investment affairs. United Arab Emirates will send aid next week, including 250,000 doses of Sinopharm Group Co. vaccine.
Indonesia has also received offers for help from India, China, Japan, the U.K., the U.S., the Netherlands, and other international bodies, the Foreign Ministry said in a statement.
Along with the aid, Singapore will send 30 oxygen concentrators, the first shipment of Indonesia's order for 10,000 units, the maritime ministry said in the statement. Luhut Panjaitan, who leads the ministry, has been tasked with overseeing the pandemic response for Java and Bali islands, economic centers that have been hardest hit by the virus.