Singapore Deemphasizes Cases in Shift Away From Covid-Zero Plan
(Bloomberg) -- Singapore is changing the way it reports on progress against Covid-19, focusing on key trends and the number of severe virus cases while dropping detailed information about individual infections, the Ministry of Health said.
The change comes "as we move to a new phase of battling the pandemic, with a strong focus on preventing the virus from spreading, vaccinating our population and starting the process to transit to a new normal," the Ministry of Health said in a statement late Tuesday.
Singapore is looking to shift away from its "Covid-Zero" strategy of stamping out the virus entirely through stiff border controls, aggressive contact tracing and social distancing, including limiting group sizes to just two. The approach has kept caseloads in the city-state well below that of its neighbors, but risks the trade hub being left behind as other financial capitals start to reopen.
Instead, Singapore is now eyeing a strategy of phased reopening backed by mass vaccination. Government officials are drawing up a roadmap for the city's economic future that assumes Covid-19 won't go away for years. While they haven't detailed a precise timeline for easing, leaders have said reopening will be tied to immunizations -- and floated the idea that vaccinated people will have more allowances to move and travel than those who resist the jabs.
Singapore has been under growing pressure to chart a path to reopening, as financial capitals like New York have more aggressively vaccinated residents and now almost fully reopened. Even Hong Kong, which also charted a Covid-Zero path and has only vaccinated about half as many people as Singapore per capita, is reducing quarantine requirements and plotting a limited reopening of travel with neighboring Macau.
At the same time, an outbreak in Australia is raising fresh questions about how long a Covid-Zero strategy can work at all. The risk is particularly grave as more transmissible strains of Covid-19 emerge, including the delta variant that first flared up in India and has aggressively spread across the world.
Australia has been forced to lock down half its population, including across Sydney, Brisbane, Perth and Alice Springs, in an effort to contain the spreading delta variant. The situation has sparked criticism of the government's lagging vaccine rollout -- per capita just a third of Singapore's total vaccinations.
Singapore has accelerated its mass vaccination program while the number of infections and unlinked cases are receding. Aside from opening up registration to non-citizens, the government shortened the minimum interval of first and second jabs to four weeks, from six to eight weeks earlier.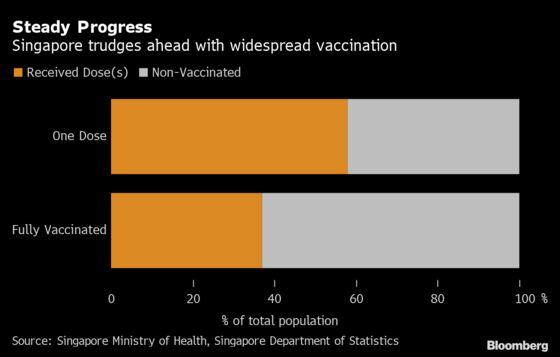 As of June 29, more than 57% of the population have had at least one dose of vaccine, while 36.8% have been fully inoculated, according to the Ministry of Health.
The government today expanded vaccine eligibility to permanent residents and long-term pass holders aged 12 to 39. Several reported being able to register for shots starting as early as tomorrow.
Singapore's overall virus cases have also dwindled in the last week. Cases overall declined to 76 in the last week, down from 104 in the week prior. Unlinked cases in community also decreased to 12 in last week, from 17 the week before.