Singapore Maintains 2021 GDP Outlook Despite Virus Setback
(Bloomberg) -- Singapore stuck to its economic growth forecast for this year, seeing past the impact of restrictions imposed to stem an uptick in Covid-19 cases while flagging that the global course of the pandemic remains a key risk.
Gross domestic product will rebound 4% to 6% in 2021, the Ministry of Trade & Industry said Tuesday, reiterating its previous forecast and citing improved performances by large economies such as the U.S. The city-state's GDP also grew in the first quarter more than previously estimated, the ministry said.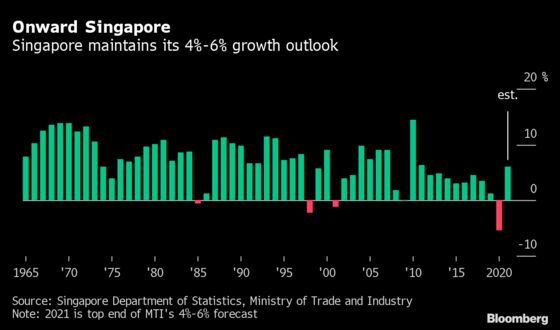 "While the recent tightening of domestic restrictions and border controls represents a setback to segments of the economy," the ministry said in a statement, "the broader economy should still see a recovery this year in tandem with the global economic rebound and further progress in the domestic vaccination program."
The benchmark Straits Times Index rose as much as 0.7% as of 9:54 a.m. local time, while Singapore dollar advanced 0.1% to 1.3270 per greenback, the strongest level in two weeks.
The trajectory of the pandemic is the main downside risk to its outlook, the ministry said, particularly within countries that are among Singapore's major economic partners. The full-year forecast will be reviewed again in August, it said.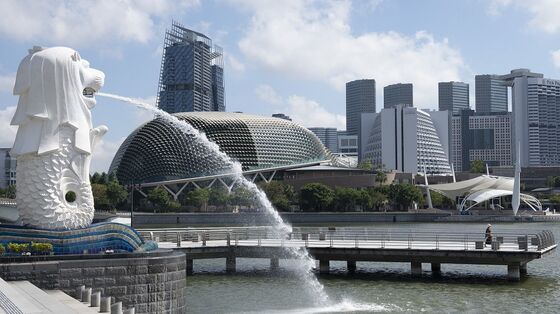 Read more: Singapore Says New Virus Rules Don't Necessitate GDP Downgrade
The rebound would follow last year's 5.4% contraction, the economy's worst performance since Singapore's independence more than a half-century ago.
What Bloomberg Economics Says...

"Momentum in Singapore's economy in the first quarter was much stronger than earlier estimated. That will help balance the setback in 2Q from tighter restrictions to stem a Covid-19 outbreak. We are sticking with our forecast of 5.8% growth this year, especially with vaccinations progressing swiftly."

-- Tamara Mast Henderson, Asean economist

For the full report, click here
The Monetary Authority of Singapore is "completely aligned" with the trade ministry's economic outlook, Edward Robinson, deputy managing director at the central bank, said at a briefing Tuesday, adding that its monetary policy stance remains appropriate.
A resurgence in infections this month prompted authorities to reissue some lockdown-like conditions that it put in place a year ago, banning dining-in, limiting social gatherings and urging a return to work-from-home.
The rise in cases -- linked to a more virulent and unpredictable strain of the virus that first surfaced in India -- has also meant a tightening of borders. Prestigious events such as the annual Shangri-La Dialogue, set for next month, and the World Economic Forum in August, were canceled.
While Singapore's recovery may be "interrupted" by new restrictions, "the silver lining though is that the economy has adapted to a re-institution of mobility, social and activity restrictions," said Vishnu Varathan, head of economics and strategy at Mizuho Bank Ltd. in Singapore.
That's "both on the part of policy makers able to apply it with more finesse and businesses that can operate with far greater level of efficiency, with the infrastructure and processes already in place," he said.
The ministry on Tuesday also published final economic estimates for the first quarter, which showed GDP grew a non-annualized, seasonally adjusted 3.1% from the previous three months, better than the 2.7% median estimate in a Bloomberg survey. That also compares with the ministry's advanced reading in April of 2%.
On a year-on-year basis, the economy expanded 1.3% during the first quarter, compared with the median estimate for 0.9% growth in the Bloomberg survey and the earlier advanced figure of 0.2%.
Manufacturing, finance and insurance and wholesale trade were the "key sectors" that supported growth in the first quarter, Gabriel Lim, permanent secretary for trade and industry, said in prepared remarks. Meanwhile, tourism- and aviation-related sectors, as well as consumer-facing sectors and construction, continued to contract.