Singapore Seeks Swab Testers, Blood Takers for Virus Fight
Singapore is calling for people to perform nasal swabs and take blood as it ramps up coronavirus testing amid a jump in infections in the city-state.
No prior health-care experience is needed, it says.
The number of new coronavirus cases in Singapore has grown by hundreds each day, mostly in migrant worker dormitories that have become hotbeds for the virus. Now with one of the largest outbreaks in Asia following a resurgence in infections, Singapore is aiming to increase its virus testing by fivefold, from 8,000 to 40,000 a day.
"Healthcare ops support staff" will be trained either to test for the virus, by nasal swabs or through bloodwork, or in administrative and operational support, according to a sign-up form posted online by the Ministry of Health.
They would be deployed to facilities where infected Covid-19 patients are quarantined to administer testing or support other ground operations, including at community isolation facilities, migrant worker dormitories or hospitals.
The "SG Healthcare Corps," a broader group of health-care and non health-care professionals tasked with providing support in the virus fight, had received more than 11,000 sign-ups as of May 3, Minister of Health Gan Kim Yong told parliament on May 4, the most recent figures available.
"I am heartened by this overwhelming response from Singaporeans," he said, adding that about 800 applicants had been matched to various roles. Those placed in the program will be remunerated for their time and contribution, he said.
Singapore said Monday its daily virus cases dropped to 486 from 876 a day before. The lower case count is however in part due to fewer tests being processed at a testing laboratory as it's recalibrating its apparatus for one of the test kits.
The Ministry of Health said on Sunday that retesting at the National Public Health Laboratory confirmed 33 false positive Covid-19 cases from the laboratory due to an apparatus calibration issue for one of its test kits.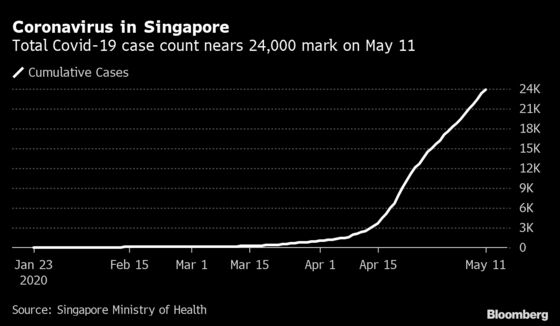 Despite an effort to scale up its testing capacity, officials said that Singapore remains committed to an approach to selectively test individuals with symptoms and hasn't made any major decisions about mass testing. Outlining the nation's testing strategy, Gan said on Friday that the government is looking to sieve out positive cases, identify close contacts and quarantine them.
As of May 4, Singapore has conducted more than 175,000 swab tests in total for an estimated 30,800 per million in the total population, according to government data.
For those who answer the nation's call for health-care help, a one-day training would be provided for the swab procedure that teaches volunteers how to collect clinical test samples from the back of the nose and throat. Meanwhile, a three-day training would be offered for those willing to learn how to draw blood for testing.