Singapore's Giant Floating Kaws Exhibit to Open After Court Win
(Bloomberg) -- A week-long show featuring a 42-meter inflatable work by U.S. artist Kaws will open in Singapore on Tuesday, after a court dismissed an order to halt the exhibition. 
The legal dispute was initiated by Ryan Foundation, according to a Straits Times report. The non-profit arts organization says it had been negotiating with Hong Kong-based organizer AllRightsReserved to bring the show to Singapore. After those discussions fell apart, it sued to stop the show, citing breach of intellectual property and breach of confidence.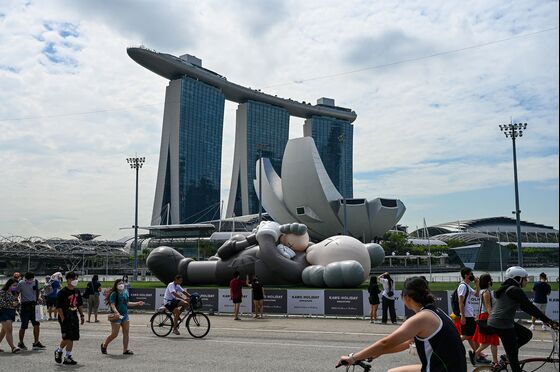 The court has directed Ryan Foundation to pay legal costs to the organizer, according to a statement from AllRightsReserved. It also ordered an inquiry into the damages sustained by AllRightsReserved due to the injunction.
Currently floating in Marina Bay, the sculpture depicts the Kaws character known as Companion. It is so large that installation and dismantling are complicated: For the exhibition's 2019 Hong Kong show, tugboats had to pull the sculpture through Victoria Harbour. 
The artwork by the artist, whose real name is Brian Donnelly, comes to Singapore after a global tour that started in Seoul in 2018. It has since visited Taipei, Hong Kong, Japan, the U.K. and been sent into space.