Singapore Nears Key Metric Tied to Easing Covid Curbs
(Bloomberg) -- Singapore on Monday registered the lowest number of Covid-19 cases seen in the community since October 18, putting the financial hub within striking distance of a key metric tied to a potential easing of measures.
The Southeast Asian city-state is tracking its local caseload on a week-over-week basis to show how fast and in what direction the virus is moving. Called the weekly infection growth rate, it's a comparison of seven-day averages that smooths outsized moves while accounting for all newly detected cases. 
Divide the total case load from this week by last week. If the number's above 1, the growth rate is rising. Below 1, it's falling. It declined to 1.05 on Monday.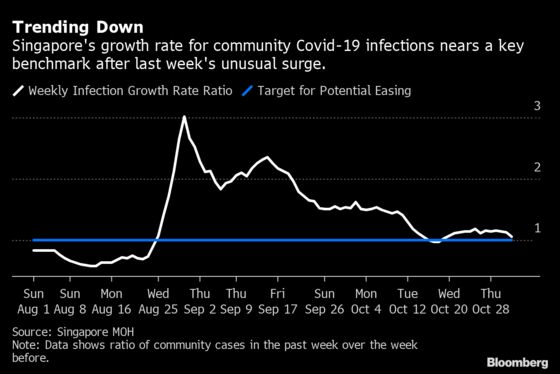 The ratio is critical for Singapore's reopening plans. Getting the number consistently below 1 is a government target, which could trigger the next round of calibrated easing of some Covid curbs, Finance Minister Lawrence Wong said late last month. That could include letting families dine in groups of five, allowing team sports to resume, and permitting more activities in schools. The other critical condition for any easing is the stability of the country's hospital and intensive care systems. 
Think of the Covid case ratio like a 14-day conveyor belt. As each new day is added, the previous day 1 becomes day 2. Day 7 goes to day 8, and it flips from this week to last week. Day 14 exits the window entirely. 
The cumulative number of cases reported on days 1 through 7 are then compared to those from day 8 through 14. 
Where the days fall on the conveyor belt is critical. On Wednesday and again on Friday, two very large daily spikes will switch from the current week to the previous one. 
What that means is if Singapore's infections otherwise stay within their recent range, without any outlier spikes, it's possible the ratio will dip below 1 as soon as Wednesday. 
Here's what to know for this week: 
Monday: Yes, Monday was a big drop, but don't read too much into it. Monday is usually the lowest day each week because of the weekend carryover. The growth rate fell to 1.05 from 1.12. Part of that is because a small number of weekend cases that were in spot 14 exited last week's total.
Tuesday: Usually the biggest reporting day of the week, Tuesday will give us a sense of how things are going. Expect an increase. Last week's number was 2,984.
Wednesday: It's a doozy. Last week there was a surge of thousands of positive cases detected within a couple of hours in the afternoon. No one knows why. Infections quickly normalized the next day. That spike now shifts from this week's total to the prior week's total. If cases otherwise stay flat, it will look like a big drop week over week.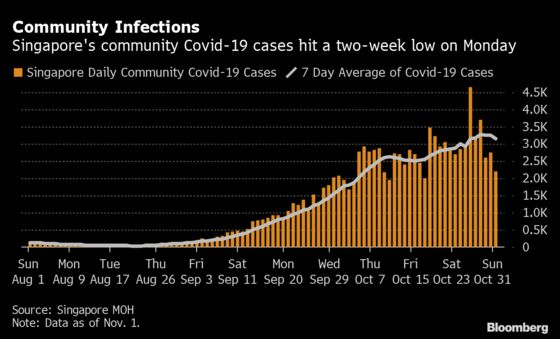 Will any of these gyrations precipitate an easing? It's hard to say. The ratio actually dipped below 1 once before, briefly, in mid-October. The trend didn't hold, and before long infections were rising again.
But a drop in cases, if it happens, would shift the focus even more to hospitals. Janil Puthucheary, a senior minister in the health ministry, told parliament Monday that the medical system is stressed, though not overwhelmed.
Available ICU beds have more than doubled in the last week, to 126 on Monday from just 60 the week prior. While some of that comes from a drop in critically ill Covid patients, the government has also added to the number of ICU beds available.  
Singapore is seeing "signs of fatigue" as hospitals face a staffing crunch, Puthucheary said. About 1,500 health care workers resigned in the first half of the year, compared to about 2,000 annually before the pandemic. Close to 500 foreign doctors and nurses quit in the first half, compared with roughly the same number in the whole of last year.
Singapore has sought to gradually reopen in stages while limiting severe adverse consequences. It's one of the most vaccinated places in the world, with 84% of the population fully vaccinated. Though the city-state has limited Covid-related deaths to just 421 throughout the course of the pandemic, Puthucheary warned that Singapore could eventually see 2,000 deaths from the coronavirus each year.
Singapore Prime Minister Lee Hsien Loong, in Italy for the G-20 summit, said Singapore was making progress against Covid, though it must guard against potential "surprises." 
Italy is a country where masks aren't needed outside, and several vaccinated world leaders including Lee were pictured meeting indoors without masks. Singapore is far stricter, mandating masks most of the time and restricting group sizes to no more than two.
"For us to reach the point where Italy is, where people got sick and recovered, we are about halfway there," Lee told CNA. "But in terms of the human casualties, we have been able to get there at a much much less human cost. And I'm trying to arrive where they are now, keeping the human cost as low as possible."