There's One Lone Bright Spot in Asia's Commercial-Property Slump
(Bloomberg) -- Commercial property deals in Asia had a poor start to the year, but there was one bright spot: Singapore.
Commercial property transactions in the city-state jumped 72% year-on-year to $1.9 billion in the quarter ended March 31, boosted by deals in the office, retail and industrial sectors, according to a report by New York-based Real Capital Analytics Inc. Office transactions accounted for the bulk of the activity as investors sought to lock in higher rents.
Office rents in Singapore climbed to a 10-year high in the first quarter amid constrained new supply and solid leasing demand, according to Jones Lang LaSalle Inc. Rents should rise 10% in 2019, following a jump of 12.4% last year, according to Bloomberg Intelligence.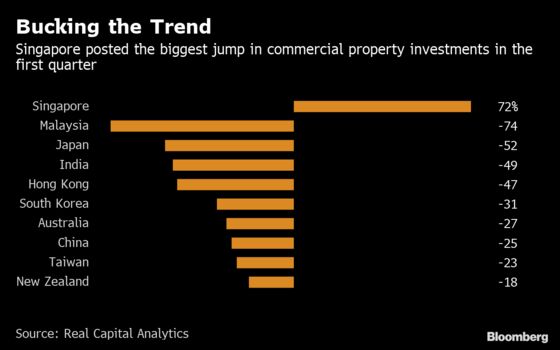 The top five buyers in Singapore's commercial property market were:
Gaw Capital, Hong Kong
Bouwinvest, Netherlands
CPP Investment Board, Canada
LaSalle, U.S.
Logos Property Services, Australia
Total investment volumes across Asia Pacific slumped 36% year-on-year. China's economic slowdown, its trade tensions with the U.S. and a global downturn in demand for consumer products took their toll on transactions.
The subdued activity from a regional perspective may change over the course of 2019 as low global interest rates spur dealmaking. The number of pending deals is high in markets such as Hong Kong, India and China, RCA noted.