Singapore Home Prices Rise in Sign Market is Still Resilient
(Bloomberg) -- Singapore property prices rose more than initially estimated last quarter, a sign of resilience more than a year after curbs were imposed to cool the housing market.
Private residential prices increased 1.3% in the three months ended Sept. 30, data from the Urban Redevelopment Authority released Friday showed. That's up from the preliminary estimate of a 0.9% gain.
Prices of landed properties increased 1% last quarter, compared with a 0.1% decline the previous quarter, the data showed.
Still, there's an overhang of unsold units in the city-state. At the end of the quarter, there was 50,964 uncompleted private residential units in the pipeline, up from 50,674 units in the previous quarter, the data showed.
"The positive market performance may not signal a need to put a brake on the property market now by implementing more cooling measures in the near term," said Christine Sun, head of research & consultancy at OrangeTee & Tie Pte. The risk of a housing bubble forming is "rather remote" as that is usually caused by a significant run-up in home prices, runaway land prices, and excessive buying fueled by "exuberant spending," she said.
Sun cited the slower pace of price increases, the cooling of the collective sales market and more measured recent land bids as mitigating factors.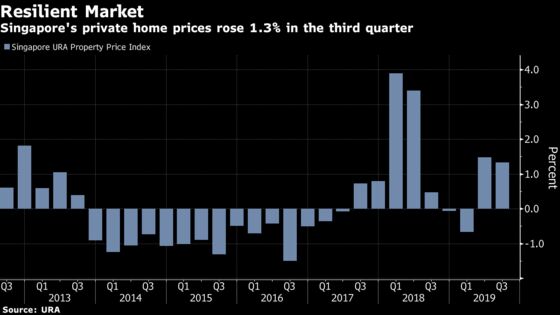 In other highlights from the URA figures:
Developers launched 3,628 units for sale last quarter, compared with 2,502 units in the second quarter
Prices of non-landed properties increased 1.3% in the third quarter, compared with a 2% gain in the previous quarter
Rentals of private residential properties rose 0.1% last quarter, compared with a 1.3% increase in the second quarter