Singapore Home Prices Fall Most in More Than Three Years
(Bloomberg) -- Singapore home prices fell the most in more than three years in the first quarter as the coronavirus outbreak slammed the economy.
Property values declined 1.2% in the three months ended March 31, according to a preliminary estimate from the Urban Redevelopment Authority released Wednesday. That's the steepest decline since a 1.5% drop in the third quarter of 2016.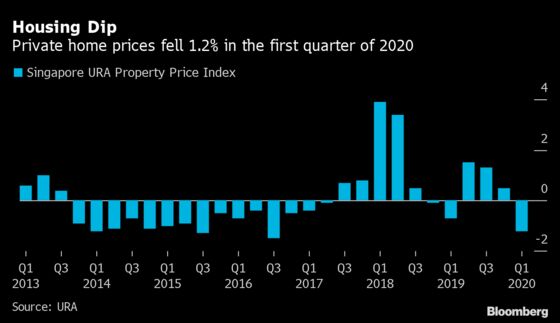 With the city-state limiting gatherings to a maximum 10 people, the new social-distancing rules have also affected sales of some new units, with agents unable to conduct as many viewings as they normally could. The number of agents stationed at showflats has also been reduced. In the resale market, some owners have also turned away potential buyers out of fear that they could pass on the virus.
The virus's impact on the property market depends on how long the outbreak lasts, said Christine Sun, head of research at OrangeTee & Tie Pte. "The property market will likely keep afloat as long as unemployment remains low and people are able to service their mortgages," she added.
That should be made easier after Singapore's major banks offered to freeze mortgage payments, and the government last week unveiled a second stimulus package that boosted assistance to the equivalent of 11% of gross domestic product.