Singapore's Biggest Headhunter Wants to Nab China's Workaholic Job Seekers
(Bloomberg) -- In some quarters, a lack of work-life balance is not always a bad thing.
HRnetgroup Ltd., Singapore's biggest recruiter and human resources firm, is hoping that expanding services in China will help lift its share price that has sagged since an initial public offering two years ago. China's headhunting market is booming, thanks to the willingness of job seekers to work seven days a week, according to HRnetgroup's Executive Director Adeline Sim.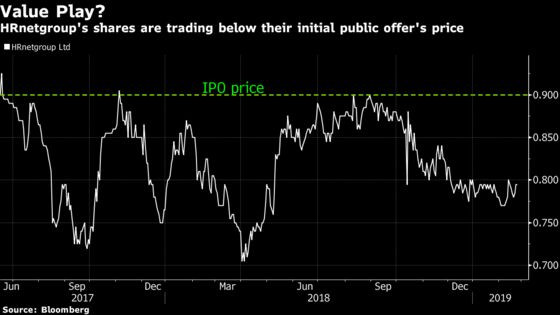 "In other cities, there is more focus on other aspects of life but China is a place where a lot of people are very focused on work," said Sim, 38, in a telephone interview on Tuesday. Chinese companies "want the talent pool to grow quickly and basically want recruiters to give the best guys immediately."
HRnetgroup plans to enlarge its professional recruitment business in Shenzhen and Chengdu while expanding into temporary staffing in Shanghai this year. The company offers professional recruitment services in Beijing, Shanghai, Guangzhou and Suzhou, and provides temp workers in Hong Kong and Taipei, according to Sim.
She expects North Asia to contribute more than half of the company's gross profit in the next three years due to growth in China, compared to 43 percent now. Sim is also looking to acquire companies in Vietnam, London and Australia, adding that the company will "definitely" close some deals this year.
HRnetgroup last week posted a net profit of S$52.4 million for fiscal 2018. Its share price has fallen by about 11 percent from the initial public offering price in June 2017. Sim said the Greater China expansion, together with its dividend payouts and acquisitions, should change that trajectory.