New Coronavirus Clusters Persisting in Singapore Worker Dorms
(Bloomberg) -- Singapore reported its 18th new virus cluster in dormitories for migrant workers in less than three weeks, signaling a setback in the city-state's strategy for containing the coronavirus outbreak by mass testing them and restricting their movements.
Two new clusters linked to previous cases were identified at dormitories where 55 of the nation's 63 latest Covid-19 cases were confirmed on Thursday, according to a statement from the Ministry of Health.
More new clusters have emerged in foreign worker dormitories in recent weeks, although officials declared last month they had been cleared of the virus after an extensive testing and quarantine program. Since then, there have been about 45 of such cases daily in the dorms detected mainly through active testing, according to the health ministry.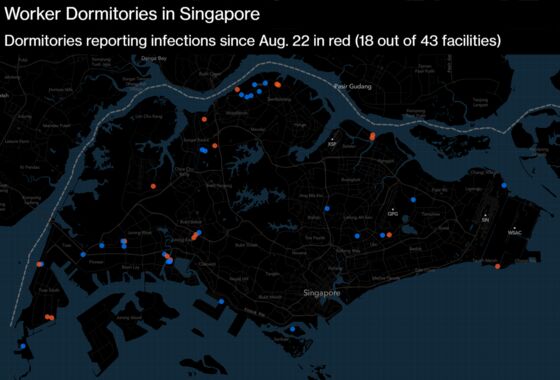 Since April, more than 300,000 migrant workers who make up much of the city's low-wage workforce, have been confined to their residences with limited exceptions for work and pre-approved "essential errands." The government said last month it was working toward relaxing more rules for workers. Those plans are now under threat as these new virus clusters emerge.
Many of the new cases in the dormitories are being found among those already in quarantine, but were also not picked up by earlier tests as the virus was incubating, and had not yet reached the concentration that could be detected, Second Minister for Manpower Tan See Leng said at a briefing on Wednesday.