Singapore Extends Covid Curbs for Month as Daily Deaths Hit High
(Bloomberg) -- Singapore will keep tight virus restrictions for about another month as authorities warned the current wave of infections threatens to overwhelm its health-care system. Record daily deaths were reported hours after the extension was announced.
The measures limiting outdoor social gatherings to two people and making work from home the default will continue until Nov. 21, the health ministry said in a statement on Wednesday. The government will extend aid amounting to S$640 million ($476 million) to help businesses and people, it said. 
"We are trying to add capacity, but it's not simply a matter of having extra beds or purchasing new equipment, because our medical personnel are stretched and fatigued," said Finance Minister Lawrence Wong, who also co-chairs a government taskforce to deal with the virus. "We face considerable risk of the health-care system being overwhelmed."
Eighteen people aged between 55 and 96 years died from Covid-19 complications on Wednesday -- a daily record. Among them, eight had been unvaccinated, one was partially inoculated and nine received full doses.
New infections declined to 3,862 from a record 3,994 Tuesday. More than two-thirds of intensive care beds are already occupied by both Covid and non-Covid patients, and 89% of 1,650 available isolation beds at public hospitals have been filled, according to authorities. 
The surge in infections has thwarted the government's resolve to ease domestic restrictions, even with 84% of the population fully vaccinated and 98.7% of Covid patients experiencing only mild or no symptoms. The restrictions implemented last month were originally slated to be in place until Oct. 24.
Wong said authorities will continually review the situation to see if there is any scope for easing in the coming weeks.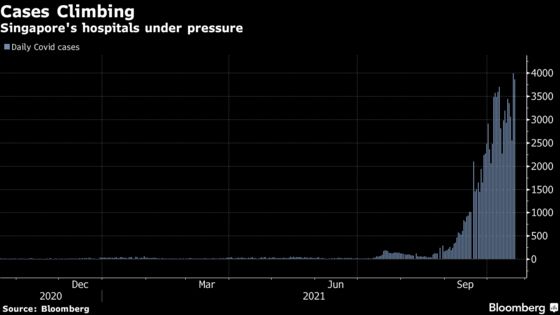 Here are further details provided by the government:
There are currently 200 ICU beds for Covid patients in public hospitals, with an extra 100 that can be set up at short notice
Extended support measures of S$640 million will be funded from previously collected revenue, with no draw on past reserves
Jobs Support Scheme sponsoring 25% of wages will be extended to Nov. 21 for sectors significantly affected by measures including retail, food and beverage, cinemas and gyms
Half-month rental support will be extended to government-managed food centers and store tenants via rental waivers and cash payouts
Funding support will be extended for taxi and private hire car drivers till December