Singapore Trims Deficit, Taps Reserves Again for Covid Aid
(Bloomberg) -- Singapore plans to rein in its budget deficit as the economy recovers, while digging deeper into government reserves for a new S$11 billion ($8.3 billion) package to help households and businesses rebound from the Covid-19 pandemic.
"Even as our economy recovers gradually and some sectors grow well, some other sectors remain stressed," Deputy Prime Minister Heng Swee Keat said Tuesday in the annual budget speech to Parliament. "Our fiscal approach must strike a careful balance between addressing our immediate needs and meeting our longer-term structural needs in a responsible manner."
The new package comes after Singapore's economy endured its biggest-ever contraction in 2020, with gross domestic product shrinking 5.4%. Growth is expected to rebound to 4%-6% this year, but the outlook remains challenging for some important sectors including aviation, transport and hospitality.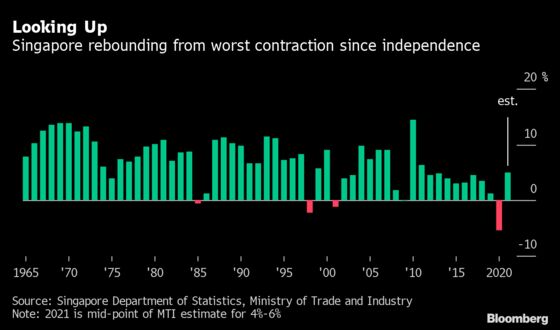 Heng, who is also finance minister, noted how the government had pivoted rapidly from focusing on pandemic relief to using the crisis as an opportunity to restructure the economy.
"What continues to distinguish Singapore are our investments in the future," he said.
Normally fiscally conservative, the challenges of the pandemic will force the city-state to run a budget deficit of 2.2% of GDP -- or S$11 billion -- in the year starting April 1, much narrower than the record high of 13.9%, or S$64.9 billion, in the current financial year.
More details: Singapore FY2021 Budget Deficit Expected at 2.2% of GDP
That compares with the global average for overall fiscal deficits of 11.8% of GDP in 2020 and 8.5% in 2021, according to International Monetary Fund projections. Before Heng's remarks, analysts in a Bloomberg survey had projected the deficit would narrow to 4% in the coming financial year.
The narrower deficit for 2021 reflects the impact of earlier tranches of spending, a daily local virus caseload near zero, a vaccination drive and medium-term concerns about keeping spending more in line with revenue.
What Bloomberg Economics Says...

"Singapore's government is moving swiftly to put its finances back in order, slashing stimulus and signaling a return to balanced budgets once the Covid-19 crisis passes. While upholding its long-standing reputation for fiscal prudence, the government balanced needs to continue cushioning the impact from the pandemic and investing for the future, especially in innovation, infrastructure and jobs."

-- Tamara Mast Henderson, Asean economist

To read the full note, click here
Officials have signaled for months that they were ready to provide more aid after pledging about S$100 billion last year, particularly for vulnerable sectors.
"The budget is winding down the Covid relief support and winding up the funds for up-skilling workers and transforming companies," said Chua Hak Bin, senior economist at Maybank Kim Eng Research Pte in Singapore. "The fiscal support is more targeted and modest, as a larger proportion of the economy emerges out of the recession. The fiscal deficit is therefore much smaller."
Heng said the government will draw more on past reserves to fund the relief package. The president has given in-principle support to draw as much as S$11 billion from reserves in the coming year, after the government expects to tap S$42.7 billion in the current financial year.
"It was fiscal prudence and discipline that allowed us to accumulate our national reserves, which has enabled us to respond decisively to this crisis," Heng said. "Beyond this crisis, we must return to running balanced budgets."
Heng added more detail to plans to raise the 7% goods-and-services tax, clarifying that the hike will have to occur between 2022 and 2025, and "sooner rather than later." Still, most Singaporean households will enjoy an effective delay in the tax hike of at least five years, he said.
Singapore plans to issue as much as S$90 billion in bonds to fund longer-term needs such as major infrastructure projects, Heng said, adding that the issue will be included in a bill to Parliament later this year.
More key points from Heng's remarks:
The Covid relief package includes S$4.8 billion for public health and safe re-opening measures
A six-month extension of wage subsidies to certain vulnerable sectors, including aviation and tourism, at a cost of S$700 million
The aviation sector will receive support and cost relief worth S$870 million
The government will set aside S$500 million to invest together with Temasek Holdings Pte in large local firms
The government will spend S$24 billion over the next three years to boost skills and build up local workers and firms, including S$5.4 billion in fiscal 2021
Singapore will tighten hiring of foreign workers in the manufacturing sector
The government also is setting aside S$30 million over five years for electric vehicle-related initiatives and S$60 million to support technology adoption in the agri-food sector