Sinclair Plunges on Dim Outlook for Sports Networks
(Bloomberg) -- Sinclair Broadcast Group Inc. suffered its worst stock rout since last June after giving a bleak outlook for its sports networks, a business it acquired for $9.6 billion less than two years ago.
The company's forecast for the networks was "really pretty abysmal," with the midpoint representing at least a 30% drop from this past year, said Geetha Ranganathan, an analyst at Bloomberg Intelligence.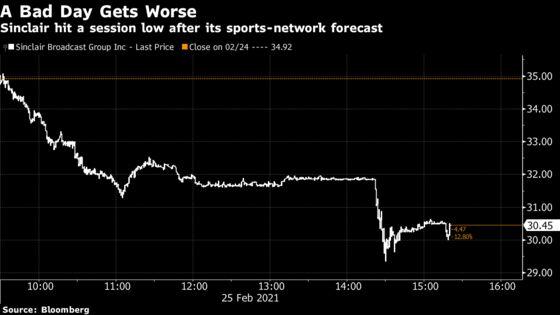 The sports-network business is suffering from cord cutting, "and that's not going to stop any time soon," she said. Sinclair also lost some distributors, including Dish Network Corp., Alphabet Inc.'s YouTube TV and Walt Disney Co.'s Hulu.
"There's just this big cloud hanging over the sports networks," she said.
The shares fell 11% to close at $31.16 on Thursday after releasing its earnings and outlook Wednesday after the close. The slump erased their gain for the year. Sinclair had been up almost 10% in 2021 through Wednesday's close.
Debt tied to Diamond Sports Group, Sinclair's sports broadcast unit, also plunged following the results. Its bonds were among the top decliners in the U.S. high-yield market on Wednesday, according to Trace bond tradings data.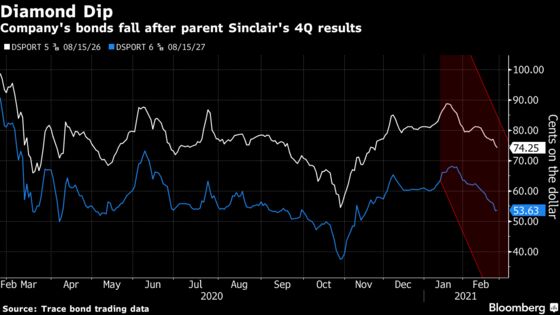 Diamond's portfolio of broadcast rights includes Major League Baseball, the National Basketball Association and the National Hockey League. But operations were hobbled by Covid-19, with Hulu and YouTube dropping Diamond's regional sports networks as games were delayed or canceled, leaving few live events to televise.
The shortened sports season during pandemic curtailed broadcasts, resulting in lower revenue and earnings during the quarter, Sinclair Chief Financial Officer Lucy Rutishauser said on a call with investors. The company is in talks to launch another debt exchange to rework its borrowings, management said. A previous deal got little traction, with investor participation falling below 4%.
Sinclair is "very interested" in a debt exchange and in "active discussions," CEO Chris Ripley said on the call Wednesday. "We're more interested in doing a right deal as opposed to any deal," he said.