Shorts Target Whitbread as Costa Sale Turns Spotlight on Hotels
(Bloomberg) -- Bearish investors have increased their wagers against Whitbread Plc since the sale of its Costa Coffee chain to Coca-Cola Co. thrust the company's other main business, Premier Inn hotels, into the spotlight.
About 6.8 percent of Whitbread's stock is on loan to short sellers, compared with just 0.3 percent on Aug. 31, the day that Coca-Cola said it was buying Costa, according to data compiled by IHS Markit Ltd. Whitbread shareholders voted in favor of the deal on Oct. 10.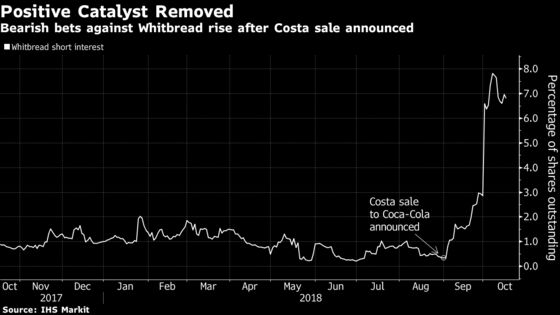 Shareholder confirmation of the sale "has removed a major catalyst for the stock," Bernstein analyst Richard Clarke said by phone. "The story reverts back to the core hotel business and investors who had a negative view on Premier Inn's prospects may now be more comfortable with putting back on their short positions."
Setting a course for the budget hotel chain will now be the company's main priority and investors will be watching for updates when Whitbread reports half-year results on Oct. 23. Credit Suisse has cut its fiscal year 2019 and 2020 estimates for revenue per available room due to a weak London summer and an uncertain backdrop, analyst Tim Ramskill wrote in a note Wednesday. He has an outperform rating on the stock.
Whitbread declined to comment on recent short-selling activity. The shares fell as much as 2.8 percent on Wednesday, while the FTSE 350 Travel & Leisure Index fell 1.3 percent. Tuesday's announcement by Merlin Entertainments Plc of a drop in like-for-like revenue at its Legoland business may also be weighing on the shares.
"Merlin's results yesterday suggest that the staycation boom in the U.K. may not be as big as some people had expected," Bernstein's Clarke said. He has a market-perform recommendation on Whitbread. "Anyone previously counting on Premier Inn having had a bumper summer thanks to the U.K.'s hot weather is now likely more cautious into next week's results."