Shorts Buckle Down Expecting General Electric Forecast Cut
(Bloomberg) -- Shorts are piling into General Electric ahead of what's expected to be a rocky third-quarter earnings report.
The 126-year-old icon of American industry, after being kicked out of the Dow Jones Industrial Average in June, has become the third-largest short among industrial conglomerates, behind Toshiba and 3M, according to S3 Analytics. Short interest rose 10 percent over the last month to $1.36 billion, and shares shorted increased by 23 percent to 119.1 million shares, the financial analytics firm said in a report on Friday.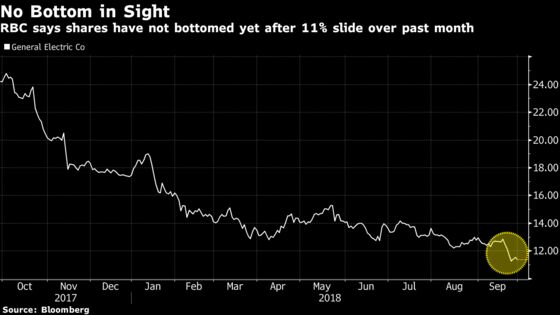 Those looking for the beaten-up stock to finally reach a bottom shouldn't hold their breath, RBC analyst Deane Dray says. Shares of GE fell as much as 2.4 percent Friday, adding to a recent slide after disclosures on issues with the company's flagship gas turbines. To Dray, it suggests "we haven't yet reached the point where incremental bad news does not make the stock go down," he wrote in a Sept. 27 note, lowering his price target to $13 from $15.
RBC expects GE management "to capitulate" with a full-year guidance cut with its third-quarter report Oct. 25, as the prospects for new charges over turbine issues add to the company's "already-full plate of looming negatives," including U.S. investigations and price-cost pressures worsened by U.S.-China trade tensions.