Short-Target Jumia Bucks Market Slide as Stifel Gets Bullish
(Bloomberg) -- Jumia Technologies AG reversed an initial drop of as much as 18% as first-quarter results paired with a recent pullback in prices helped win over its first sell-side bull.
``The leader in the most attractive markets in Africa, is well-positioned to benefit from the positive secular trends in Commerce and digital payments growth over the long term,'' Stifel's Scott Devitt wrote in the note, becoming the first analyst to have a buy-equivalent on the stock. Shares rose as much as 8%, on track to end what was a seven-day losing streak.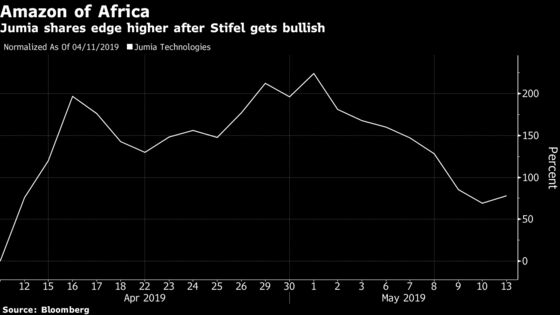 The Berlin-based company's increased loss in the first three months of the year came in its first results since going public, and less than a week after Citron Research attacked it as a short target. Those comments wiped off more than a quarter of the company's market value in the three trading sessions prior to Monday's market open.
"We will not be distracted from executing on our strategy and carrying out our mission by those who seek to create doubts to profit at our expense and that of our long-term stakeholders," the company's co-chief executive officer Sacha Poignonnec said on the call with analysts.
While company management defended its platform and referred to the results as "excellent," Stifel was the first Wall Street analyst to echo the positive sentiment.
The company that has been dubbed the Amazon.com Inc. of Africa reported first-quarter revenue of 31.8 million euros compared to 28.3 million euros the year prior. Jumia remains up more than 75% from an April public offering, despite shedding close to half of its market value during im the last eight sessions.
First-quarter operating loss widened to 45.5m euros from a loss of 34.3m euros a year earlier
1Q rev. 31.8m euros vs 28.3m euros y/y
1Q first party rev. 15.6m euros vs 19.8m euros y/y
NOTE: May 9, Jumia Tech Plunges as Citron Calls It 'Most Obvious Fraud' Ever
Story Link: Jumia Tech Declines Pre-mkt After 1Q Operating Loss Widens