Short on Women, Argentina Fails to Deliver on Pledge to IMF's Lagarde
(Bloomberg) -- Christine Lagarde didn't mince words. "You're short on women," the IMF director told Argentina's Economy Minister Nicolas Dujovne in May when he came to Washington with an all-male entourage seeking financial aid. "We'll improve," he responded in front of the cameras.
Argentina has since made little progress in addressing Lagarde's criticism. The central bank's appointment of Veronica Rappoport as one of its two vice presidents last week was only one small step forward in a year full of setbacks for Argentine women, both economically and politically. As the country hosted the W20 Summit this week -- a conference about female economic empowerment bringing together some 800 women from around the world -- South America's No. 2 economy struggles to boost opportunities for them.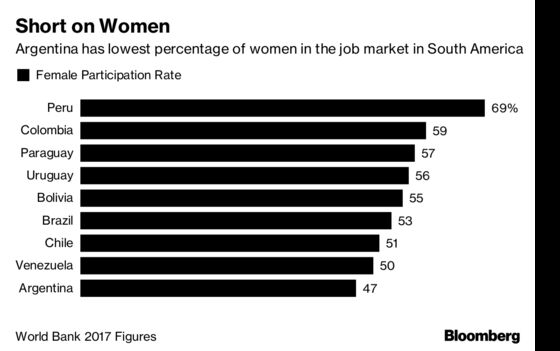 When it signed its initial deal with the IMF in June, Argentina pledged to work on measures to boost female participation in the economy. Four months later, no initiatives have been approved as the government focuses instead on austerity measures. A bill that would make it illegal for men and women to have pay gaps for the same job has been stuck in Congress since May. Increased spending in child care facilities depends on the approval of next year's budget.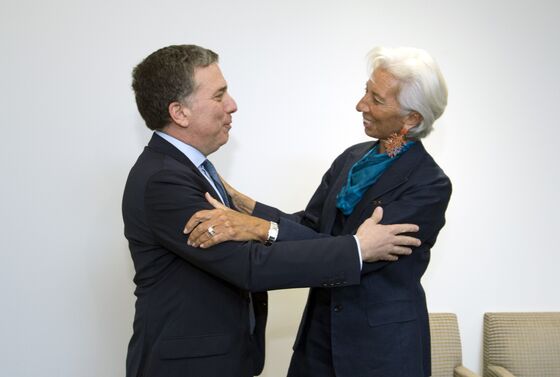 A spokesman for the economy ministry did not respond to a request for comment. An IMF spokesman welcomed Rappoport's appointment, noting she is a highly-qualified economist. He added that even under a more austere budget next year, resources for child care would go up.
Argentina has surely made advances in women's rights that other nations haven't. By federal law, they receive at least 90 days of maternity leave. Argentina has had two female presidents, including Cristina Fernandez de Kirchner, who was the nation's first female president from 2007 to 2015. Women hold some of the top posts in Argentina, including Vice President Gabriela Michetti, Buenos Aires Governor Maria Eugenia Vidal and Security Minister Patricia Bullrich. By law, Argentina's Congress must be at least 33 percent female. It's currently 40 percent.
Yet women remain in clear disadvantage in the economy. Argentina has the lowest female participation rate in the job market among South American peers, with only 47 percent of women in the work force, according to World Bank figures. As the economy spiraled into recession this year, the unemployment rate among women reached the double-digits, remaining more than 2 percentage points above that of men. And the gender pay gap stands at 31 percent, compared with 18 percent in the U.S.
Meanwhile, nearly 60 percent of students across all universities in Buenos Aires are women, city government figures show.
"A lot of college graduates here happen to be women, but they are underemployed and underutilized," said Irene Natividad, a speaker at the W20 and president of the Global Summit of Women, a non-profit organization based in Washington. "The biggest barrier is cultural. This is a country known for machismo."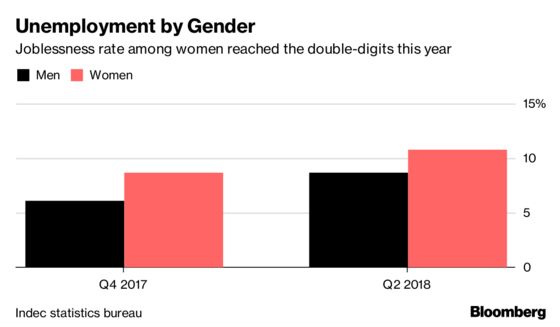 Women's rights advocates say that Argentine female workers had their ability to enter the job market further hampered this year when Congress rejected a bill that would have legalized abortion. Others point out that Argentina lacks safe and affordable child care options.
"It's a problem," said Maria Luisa Macchiavello, director of the Argentine Chamber of Commerce and Services and another W20 speaker. "There's a lot of women who decide not to work when they have kids."