Short-Covering Japanese Bond Traders Bring Zero Yields Back Into Focus
(Bloomberg) -- Rising demand for haven assets is threatening to push Japan's benchmark yield below zero percent and quash the likelihood of further central bank policy tweaks in the new year for fear of stoking the yen, according to local strategists.
A rally in government bond futures, exacerbated by a scarcity of so-called cheapest-to-deliver JGBs, pushed the yield on 10-year notes to 0.035 percent this week, the lowest since July. Yields will keep falling until positions are cleared, complicating any Bank of Japan move toward policy normalization, said Naomi Muguruma, a senior market economist at Mitsubishi UFJ Morgan Stanley Securities Co. in Tokyo.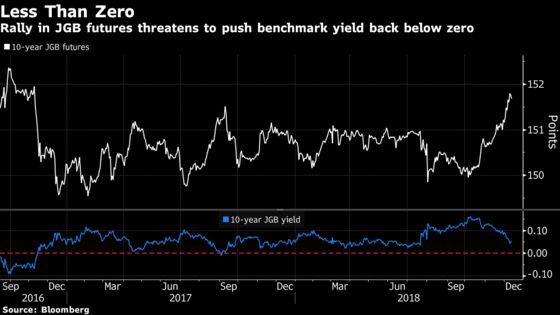 "The BOJ can do nothing in this situation because it can't change the environment or stem the drop in JGB yields," Muguruma said. "The current market situation means it's no longer likely that the BOJ will make a further tweak to its policy framework in January."
Worries about global economic growth, ongoing concern about the U.S.-China trade war and question marks over the path of Federal Reserve rate hikes have sent investors piling into safer securities such as Treasuries and Japanese government bonds this month. Ten-year JGB futures rose to a two-year high this week, and swap rates on 20-year maturities hit a four-month low.
Japan's central bank has been taking tentative steps toward reducing its unprecedented monetary stimulus amid criticism it's distorting the bond market. It widened the trading range for benchmark yields in July, and has been tapering its debt purchases.
However, if the BOJ cuts bond purchases in the five-to-10 year zone in an attempt to stem the drop in yields, it may renew talk of normalization and strengthen the yen, which the central bank doesn't want, said Takenobu Nakashima, senior rates strategist at Nomura Securities Co. in Tokyo. So speculation the central bank's hands are tied could eventually drive the 10-year yield down through zero percent this month, he said.
"Foreigners are leading the buying in futures, and dealers are having to cover short positions with no clear prospect for appetite abating," said Koichi Sugisaki, a strategist at Morgan Stanley MUFG Securities in Tokyo. "There is strong buying pressure in futures and swaps amid the risk-off market sentiment."
The short-covering could continue for another six months, he added.
Another factor pressuring yields is Japanese banks' preference for five-to-10 year receiver swaps thanks to their high carry, especially after six-month Libor rates sunk into negative territory recently, Sugisaki said.
There is even the possibility a portion of the Japanese yield curve could invert, according to Souichi Takeyama, rates strategist at SMBC Nikko Securities in Tokyo.
The scope for yields on bills to drop appears to be shrinking, putting upward pressure on the two-year yield which may lead to the two-to-five year curve inverting, he said. It would be the first time those maturities have inverted in over a year.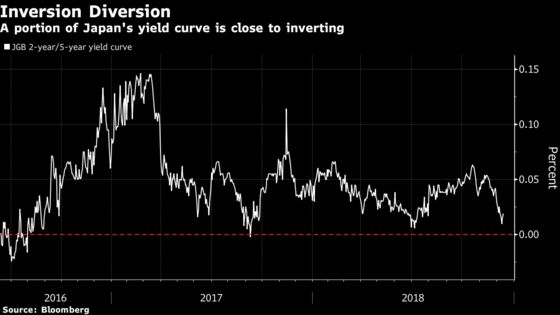 "The yield spread between two and five years is so narrow now," Takeyama said. "If shorter yields edge up on firm Treasury yields, the curve's inversion could occur."