Small Business Is Great, Trump Says: Weekend Sales Update
(Bloomberg) -- The Black Friday frenzy is over -- sort of.
Sales are expected to roar on through Cyber Monday, with traffic and data reports from the post-Thanksgiving shopping bonanza starting to trickle in. Given the strong economy and the health of the U.S. consumer, it's looking like a big weekend for the industry. Early reports are coming in strong, and anecdotes from malls around the country suggest they're busy.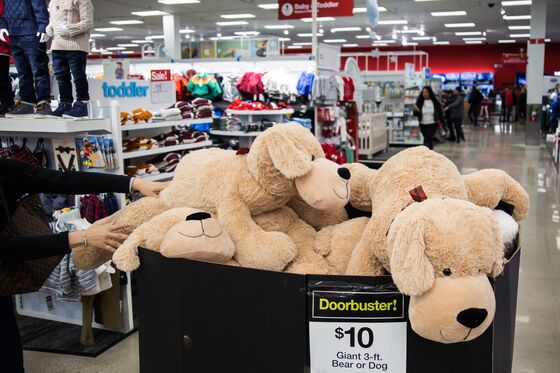 Here's a look at the latest information available, with all time stamps reflecting the U.S. East Coast:
Fewer Shoppers Visit Stores (3 p.m.)
Store visits to physical sites on Thanksgiving Day and Black Friday declined 1 percent from last year, ShopperTrak said. Visits on Black Friday alone were down 1.7 percent.
President Weighs in (1:44 p.m.)
Donald Trump is a fan of Small Business Saturday. The White House retweeted comments from Small Business Administrator Linda McMahon predicting that this year's event will be bigger than 2017 given the strong economy and high consumer confidence. On the same Saturday last year, 108 million people shopped or dined at a local business, a National Federation of Independent Business survey found.
Smartphones Under the Christmas Tree (12:30 p.m.)
Handset sales topped $2 billion on Friday, a single-day record, according to Adobe Analytics, which is tracking e-commerce.
And shoppers who opted to skip the malls still flocked there to pick up goods with click-and-collect orders growing 73% from Thursday to Friday.
Shopify Sales Blow Past 2017 Levels (10:20 a.m.)
Online merchants that sell through Shopify generated sales of more than $573 million on Black Friday, exceeding the 2017 total by early afternoon, the e-commerce company said. At the peak, sales reached more than $870,000 a minute, or more than $37 million an hour, according to a Saturday statement from Shopify.
And signs show that consumers are getting increasingly comfortable ordering off of smaller screens. Of the Shopify sales, 63 percent came from phone or tablets with desktops accounting for 37 percent.
What did consumers shop for? Mostly clothes. Best selling products were shirts and tops, pants, coats and jackets, shoes, dresses and bracelets. The average online order size among more than 650,000 merchants was $86.37.
Many consumers ready to shop online Friday were greeted with glitchy websites, long load times, and error messages as websites of retailers including Lowe's Cos., Walmart Inc., Lululemon Athletica Inc., J. Crew Group and Kohl's Corp. struggled to keep up with surging traffic.
A spot check Saturday morning showed the retailers' websites were operational again, but not before the companies drew the ire of would-be shoppers on social media Friday.
Early numbers on Saturday from Adobe show sales totaled $400 million as of 10 a.m. That's 24 percent more than the same period last year, and in line with yesterday's growth. Laptops are the best sellers, followed by L.O.L. Surprise toys.