TV Magnate Shari Redstone Now Prefers to Curl Up With Podcasts
(Bloomberg) -- When Shari Redstone gets home, she doesn't sit down in front of the television. The media mogul, whose family made billions of dollars in TV, prefers to catch up on "CBS Evening News" or "Face the Nation" via podcast.
Redstone, who oversees controlling stakes in CBS Corp. and Viacom Inc. for her ailing father, Sumner, has a new fondness for audio as more waking hours are filled with computers and mobile phones. She's one of the growing number of consumers who choose to listen to a podcast rather than stare at a screen.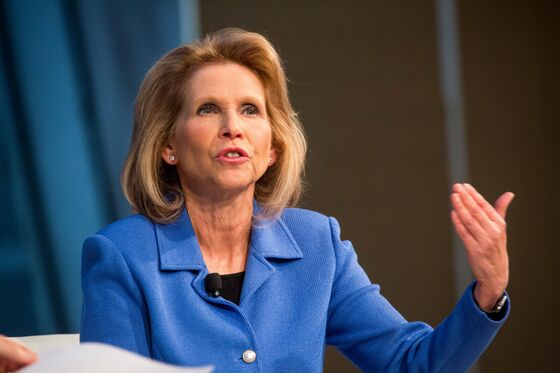 "Audio is going to be a big driver of media consumption going forward," Redstone, 64, said in a phone interview, her Boston accent becoming more obvious as her enthusiasm grows. "The more complicated society gets, the more of a place there is for audio platforms."
Redstone, who runs her own investment fund, was among the first-round investors last year in Wondery Inc., the podcast network that has scored hits with the true-crime drama "Dirty John" and the medical-malpractice series "Dr. Death." It's one of several audio-based investments for her firm, Advancit Capital, which focuses on the intersection of technology and media.
Podcasting has exploded in recent years, making household names of reporters like Michael Barbaro, who hosts the popular New York Times series "The Daily." The music-streaming giant Spotify Technology SA plowed into the business in a big way this month, agreeing to buy Gimlet Media Inc. and Anchor FM Inc. for reportedly more than $350 million.
"We are just at the beginning of a growth stage," said Alan Patricof, co-founder of Greycroft Partners LLC, the lead investor in Wondery. The $5 million round completed last March also brought in Lerer Hippeau Ventures; BAM Ventures, whose founder led the Honest Co.; and a unit of the German media company Bertelsmann AG.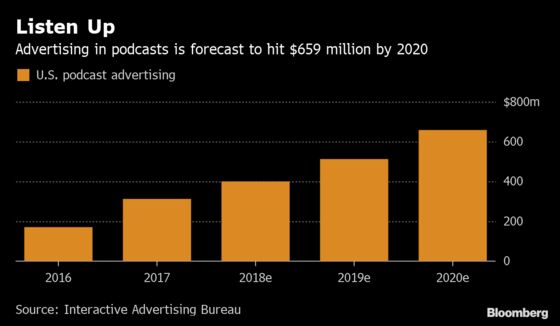 About 44 percent of U.S. residents over age 12 had ever listened to a podcast last year, up from 18 percent in 2008, according to Edison Research. Listeners commit about 6.5 hours a week. That could double and approach radio listening, but the business will eventually hit a ceiling well below TV, according to John Lustyan, co-founder of the media advisory firm Doing Work As. Advertising was estimated at about $314 million in 2017, a fraction of the nearly $12 billion generated by digital video.
Redstone finds lots to enjoy in the podcast world -- a big endorsement from a mogul who controls media companies that own the CBS television network, popular cable channels such as MTV and Nickelodeon, and the studio that made "The Godfather."
True crime is a popular genre for the medium, and Wondery is readying a new series in collaboration with the Los Angeles Times, called "Man in the Window," focused on the Golden State Killer. Redstone was already engrossed in "Dirty John," a saga about conman and sociopath John Meehan, when she decided to invest.
Redstone also soaked up "Dr. Death" -- the most popular new podcast in 2018, according to Podtrac Inc. -- a series about a real neurosurgeon who killed or maimed several patients. "Business Wars," with stories like "McDonald's vs. Burger King," brought her back to her day job, while "Gladiator" focused on Aaron Hernandez, the late New England Patriots player who was convicted of murder.
In all, 60 percent to 70 percent of Redstone's media consumption is through audiobooks or podcasts. Some are subscription-based, like the mindfulness and meditation app Headspace, which Redstone reportedly backed in a roughly $30 million funding three years ago.
Wondery was founded in 2016 by TV executive Hernan Lopez, an 18-year veteran of 21st Century Fox Inc. He struggled to raise funds at first, as venture capitalists questioned the future of the new medium. But the popularity of "Dirty John," the No. 2 podcast of 2017, changed that. Wondery turned its first profit in the fourth quarter of 2018, Lopez said, with annual revenue exceeding $10 million.
From his headquarters in West Hollywood, California, Lopez plays a video trailer for the new true-crime show, "Over My Dead Body." It is like a teaser to a TV procedural but will be an audio series, one of six major releases this year for Wondery.
Podcasts such as "Over My Dead Body" and "Dirty John" are attracting a range of advertisers -- from ones you'd expect in online media, like Dollar Shave Club and ZipRecruiter, to more upscale marketers such as the luxury brand Chanel, which sponsored Wondery's "TBD With Tina Brown."
Ultimately, deals with larger media conglomerates are on the horizon, according to Lustyan, a former Disney and DreamWorks executive. Podcast creators can be a rich source of material that finds its way into the much larger market for video and subscription entertainment.
Some of that is already happening. Gimlet's "Homecoming" show has been made into a series for Amazon Prime Video, featuring Julia Roberts. Three of Wondery's shows, including "Dr. Death" and "Gladiator," are being developed for TV. "Dirty John" was turned into a TV series for Bravo that aired last November and earned a Golden Globe nomination.
Lopez, 48, wouldn't comment on whether Wondery had been approached for a takeover, calling such talk premature. He says the company is the largest independent publisher of podcasts in the U.S. and "very confident in our growth path."
"I do see that for new entrants it is more difficult to find listeners," Lopez said of the growing market. "For us last year we grew our audience by double. If I see any sign, I'm seeing an acceleration in listening patterns."