Share of Unemployed on Temporary Layoff in U.S. Soars to Record
(Bloomberg) -- The April jobs report was breathtakingly awful, but the figures also included a hopeful sign for U.S. workers once the economy begins re-opening from its pandemic-induced shutdown.
The share of unemployed people on temporary layoff soared to almost 80%, the highest on record, from 26.5% a month earlier, according to Labor Department figures issued Friday. The overall unemployment rate jumped to 14.7%, the highest in eight decades, from 4.4%.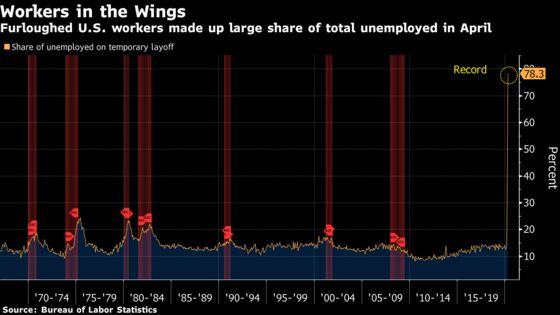 Such a large share of temporarily unemployed Americans indicates they may be able return to their previous employers quickly as the nation emerges from the economic stoppage.
Erica Groshen, former commissioner of the Bureau of Labor Statistics, wrote earlier this month that former employees will immediately be productive because they won't require onboarding or training.
"Furthermore, while they await recall, workers likely won't delay as much consumption as if they faced the greater uncertainty of needing to find a new job," Groshen said. "By the same token, employers are spared the uncertainties of getting the skilled workforce they need, so they can make the purchases they need to be ready to start up again."