Serbia Holds Benchmark Rate at Record Low Even as Growth Slows
(Bloomberg) -- Go inside the global economy with Stephanie Flanders in her new podcast, Stephanomics. Subscribe via Pocket Cast or iTunes.
Serbia left borrowing costs unchanged for a 13th month after the economy slowed and inflation quickened.
Following dovish turns by the U.S. Federal Reserve and the European Central Bank, policy makers in Belgrade kept the benchmark at record-low 3 percent on Thursday, as expected by economists. The Balkan country usually takes signals from the world's bigger economies to avoid making decisions that can trigger swings in the dinar.
Inflation remains withing central bank's expectations, being "low and stable," for a sixth year, the central bank said in a statement. It's approach of the mid-point of the bank's target in March was "temporary," and "caution is still necessary in pursuing monetary policy, primarily because of global uncertainties," the bank said.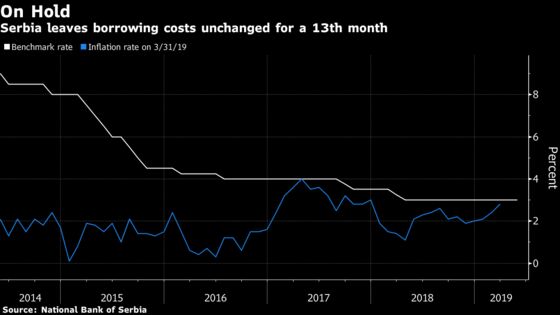 Rate setters refrained from easing even as the economic growth in January-March slowed for the third quarter in a row, making the weakest quarterly expansion since 2017. Consumer prices were just under the mid-point of the central bank's 1.5% to 4.5% tolerance band in March, though accelerating since November. The government expects gross domestic product to rise 3.5% this year, slowing from 4.3% in 2018.
The central bank has sought to control dinar volatility by intervening on the market. It bought a total of 75 million euros ($84 million) in April after buying 135 million euros in March.