Serb Central Bank Holds Fire to Extend Pause on Interest Rates
(Bloomberg) -- Serbia's central bank left borrowing costs unchanged to remain in sync with big global central banks as it fights to prop up the weak dinar and continue fanning robust economic growth.
With a potential economic slowdown clouding the tightening outlook at the European Central Bank and the U.S. Federal Reserve suggesting it may be finished raising rates for now, policy makers in Belgrade are wary of resuming a five-year cutting cycle that ended last April. The National Bank of Serbia left its benchmark at record-low 3 percent on Thursday, in line with analysts' expectations.
"Caution in pursuing monetary policy is still needed, primarily because of global market developments," the bank said in a statement. "The outlook for global economic growth is less favorable and the leading central banks, the Fed and the European Central Bank, have recently indicated a possibility that normalization of their monetary policies may be slower than expected."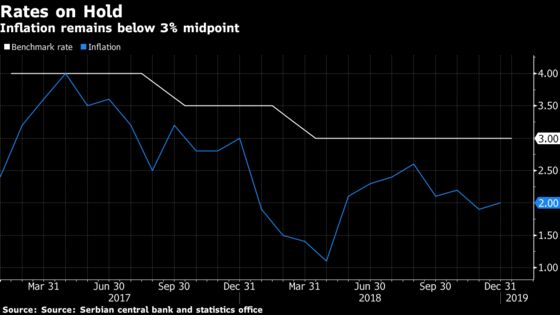 With inflation below midpoint of its target, rate setters have stuck to a wait-and-see approach similar to that in Poland and Hungary. The record-low borrowing costs helped boost economic growth to 3.5 percent in the fourth quarter, from 2.5 percent a year earlier -- a boon for President Aleksandar Vucic as his party mulls early elections.
However, while the Fed's shift toward easing has helped lift some emerging assets, Serbia's Finance Ministry struggled to sell dinar bonds last month. That happened as the central bank stepped up its non-rate measures to defend the dinar. It sold 130 million euros ($148 million) in the market to prop up the currency, the most since August, and introduced an additional FX swap to boost liquidity for banks.