Seoul to Restrict Restaurants and Cafes to Stem Virus Resurgence
South Korea announced stricter social distancing measures for Seoul, where a recent spike in coronavirus cases is raising worries of another wave that could undermine the country's ability to manage the pandemic.
Health Minister Park Neung-hoo said restaurants in the greater Seoul area, where about half of the country's population of 50 million live, will not be allowed to serve diners after 9 p.m., while franchised cafes will only be allowed to do deliveries and pickups. Cram schools will also be banned from holding in-person classes and government agencies will be required to have more than a third of their employees work from home.
The social distancing measures, which will be imposed for a week, fall short of lockdown-like restrictions that would have been in place had the country raised its social distance alert to the highest level 3. Prime Minister Chung Sye-kyun said on Friday that the current level 2 alert would be extended for another week, as raising it to level 3 would be the country's "last resort."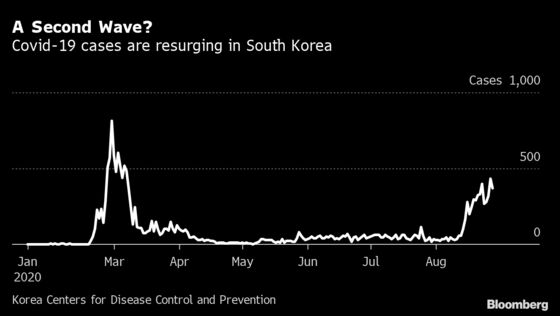 Under level 3 social distancing, gathering of more than 10 people would be banned, schools would be shut down and sports and entertainment events would be canceled.
The latest measures, which would impact about 380,000 restaurants, come as the Asian nation has seen of cases in the triple digits for the past two weeks, peaking at 441 on Thursday. New infections fell to 371 cases on Friday. While restaurants won't be allowed to serve customers after 9 p.m., they can do deliveries and takeouts between 9 p.m. and 5 a.m.
If the latest outbreak worsens, it would be a setback in the global Covid-19 fight. Bolstered by its success with rapid testing and contact tracing, the country has been held up as a model for democracies looking to manage the virus without having to resort to restrictive lockdowns. Once the world's second hardest hit, South Korea has touted one of the lowest infection and fatality rates among developed nations.