Seaworld Sued by SEC for Failing to Disclose 'Blackfish' Impact
(Bloomberg) -- SeaWorld Entertainment Inc. and its former chief executive agreed to pay more than $5 million to settle a U.S. Securities and Exchange Commission lawsuit in which the regulator claimed they failed to disclose the impact on its business from the documentary "Blackfish," a 2013 film that was highly critical of the park's treatment of its orcas.
The SEC said SeaWorld waited until August 2014 to acknowledge declining attendance caused in part by negative publicity.
The delay artificially inflated the value of the company's shares, according to the SEC. The shares fell by one-third after the decline in attendance was disclosed, and investors lost $830 million, the SEC said in a complaint filed on the same day the settlement was announced. The SEC said SeaWorld's former chief executive officer, James Atchison, avoided $730,860 in losses by selling some of his shares in early 2014.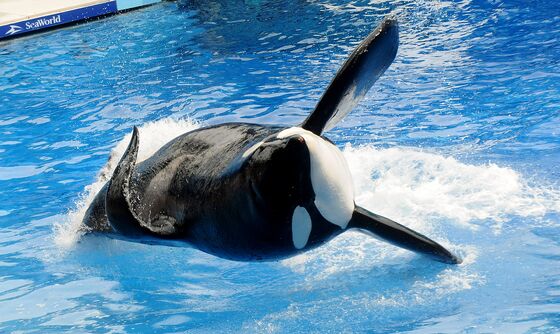 SeaWorld didn't admit or deny the allegations, saying in a statement it was "pleased to have resolved this matter" and that it cooperated with the SEC. The company will pay $4 million and Atchison is to pay more than $1 million.
SeaWorld, one of the largest U.S. theme-park operators, has been battling criticism for years from animal rights activists who argue that killer whales shouldn't be kept in captivity. The 2013 documentary, coupled with protests from People for the Ethical Treatment of Animals and other groups, prompted companies to cut their sponsorship ties with the parks, performers to cancel concerts, and a legislative attempt to ban whales in captivity in California. The company and Atchison maintained the criticism didn't affect park attendance.
SeaWorld hired Joel Manby in 2016 as the new CEO. He halted whale breeding and began introducing new rides that didn't involve live animals. Habitats were changed to make them more like their natural environment but SeaWorld continued to struggle to improve attendance and Manby stepped down earlier this year.
In its most recent regulatory filing, SeaWorld said it reached an agreement in principle with the SEC to settle the claim.
The case is U.S. Securities and Exchange Commission v. SeaWorld Entertainment Inc., 18-cv-08480, U.S. District Court, Southern District of New York (Manhattan).