In Brazil Heatwave, Coffee is Literally Burning on the Trees
(Bloomberg) -- Farmers just can't catch a break with the weather right now. While a cold snap threatens winter crops in the U.S., scorching temperatures are imperiling Brazil's prospects of a record robusta-coffee harvest.
The normally sturdy robusta beans -- used in instant coffee and espresso -- are roasting even before being picked amid unrelenting heat in the states of Espirito Santo and Bahia. Maximum temperatures this month are as many as 8 degrees Celsius (14 degrees Fahrenheit) above average in the main producing states, according to Somar Meteorologia.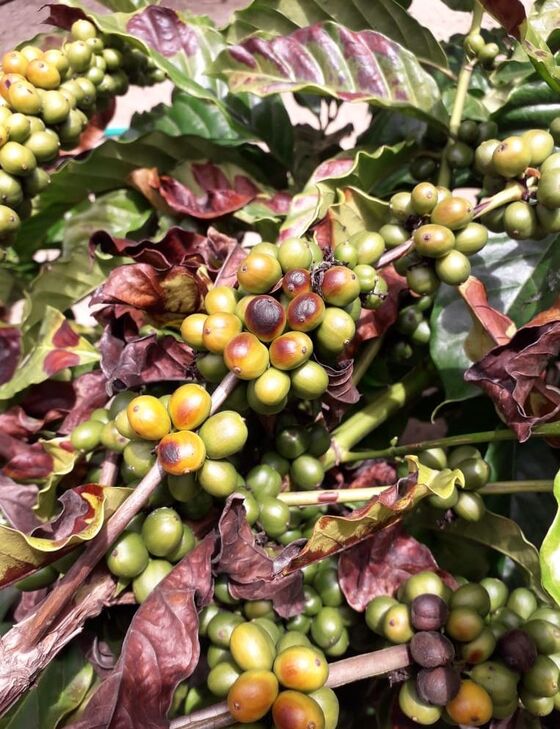 "Beans are being burned amid scorching conditions and lack of rain," Edimilson Calegari, general manager at Brazil's top robusta cooperative Cooabriel, said by telephone from Sao Gabriel da Palha in northern Espirito Santo.
How a deep freeze in the Midwest is affecting farmers
Under consecutive days of high temperatures, the side of the coffee cherry that is exposed to the sun dehydrates, preventing the bean inside from forming properly, Calegari said.
After abundant rain in the second half of last year that boosted optimism for the crop, robusta-coffee areas in Espirito Santo got only 5 millimeters (0.2 inch) in January, trailing the 150-millimeter average for the month, according to Somar.
The main issue, though, is the scorching heat, with temperatures reaching as high as 37 degrees Celsius. Plants full of forming cherries have been getting as many as nine hours a day of temperatures above 30 degrees, Celso Oliveira, a meteorologist at Somar in Sao Paulo, said by telephone.
Espirito Santo and Bahia account for more than 80 percent of Brazil's robusta-coffee crop. Southern Bahia state has been hardest hit.
"In Bahia, crop conditions are terrible as they don't have irrigation to ease plant stress," Cooabriel's Calegari said.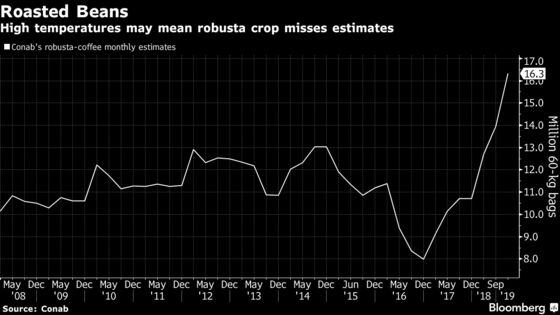 Before the heatwave, the Brazilian robusta-coffee harvest was expected to reach records, rebounding from a severe drought in 2016. Crop agency Conab estimated the nation's coffee crop at as much as 54.5 million bags, 16.3 million bags from robusta beans.
"Some farmers are forecasting losses of 10 to 15 percent," Calegari said. "We will produce less, for sure, while we can't estimate anything so far."
Precipitation may return to Espirito Santo on Feb. 4, when heavy showers in the following seven days are expected to bring down temperatures, Somar's Oliveira said. Before that, robusta crops will remain under stress, with temperatures forecast to top 35 degrees Celsius, he said. "In southern Bahia, the outlook is less optimistic as precipitation will return only after Feb. 8."