Scooter Company Lime Hires a Chief Operating Officer
(Bloomberg) -- Lime has hired Joe Kraus, a general partner at GV, Alphabet Inc.'s investment arm, to be its new chief operating officer, the startup said. Kraus, a member of Lime's board of directors, helped lead GV's investment in Lime's $335 million fundraising round earlier this year, and will be the first person to hold the COO title at the company. 
Lime was founded last year as a bike-sharing company, but became a leader in the nascent electric scooter-sharing industry this spring. The company has grown at a breakneck pace even by the standards of technology startups, and it's now worth $1.1 billion. It has about 5 million riders spread out over 80 cities, and is launching operations in five new cities each week, according to the company.
While scooters have become Lime's primary focus, Kraus sees it as a broader transportation provider. He believes its customers are looking for an alternative to car ownership. "What's driving them is this massive generational shift around the unbundling of the car," he said.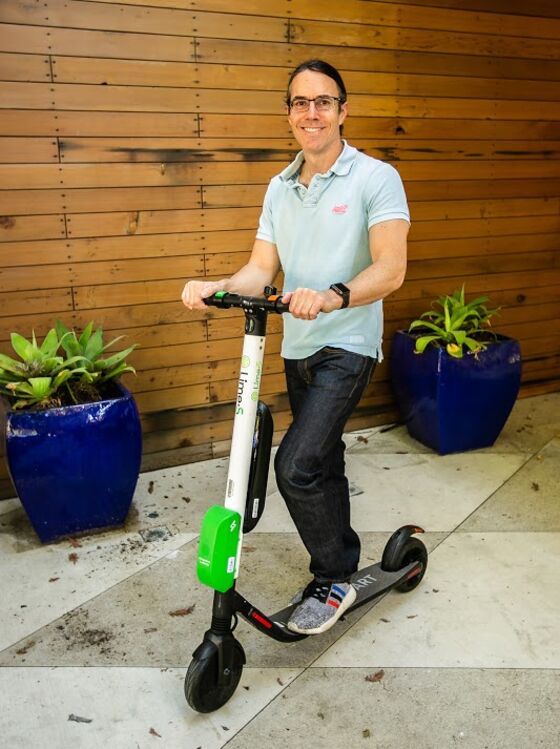 Kraus made his name in tech as the co-founder of Excite, a prominent internet portal in the first internet boom. He joined GV in 2009. Kraus will step down from his role as general partner at GV, although he will continue to be a venture partner at the firm, and will continue to hold board seats at several of its portfolio companies. He will hand his board seat at Lime to another GV partner.
Lime's rapid expansion has stretched its executives thin, and Kraus has been helping it on a major hiring binge over the last five months.  Since August, he's helped recruit a new chief business officer, general counsel, global head of operations and strategy, and head of engineering. As COO, Kraus will take over much of the daily operations duties from Toby Sun, Lime's co-founder and chief executive officer.
A major challenge facing Lime and its competitors is securing enough scooters to satisfy demand. Last week the company was forced to announce that it was recalling about 2,000 scooters made by Segway Ninebot, over concerns that the batteries had become a fire hazard. Jeff Jordan, a general partner at Andressen Horowitz who sits on Lime's board, said one of Kraus's immediate priorities will be making sure Lime can get scooters in sufficient numbers to keep opening operations in new cities without sacrificing quality. "You don't want them catching fire," he said.
Kraus said Lime is sourcing from several different contract manufacturers, and doesn't want to rely too heavily on any single supplier. He hopes to ease what he describes as a global shortage of vehicles. "Today we live in a world of scooter scarcity," he said. "In 18 months we'll live in a world of scooter abundance."