Sci-Fi Flick 'Alita' Unexpectedly Topples 'Lego' at Box Office
(Bloomberg) -- The futuristic science-fiction film "Alita: Battle Angel" far surpassed estimates to capture top position at the weekend box office, unexpectedly knocking off "The Lego Movie 2: The Second Part" after just a week in another sign the animated sequel is off to a rocky start.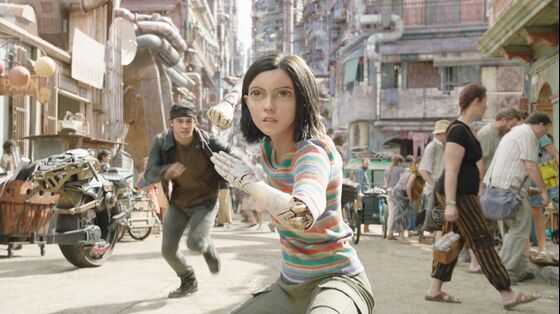 "Alita," a 20th Century Fox movie produced by James Cameron of "Titanic" fame and starring Rosa Salazar and Christoph Waltz, brought in $33.5 million in the U.S. and Canada from Friday through Monday, researcher Comscore Inc. said. That trounced the $26.5 million estimate from Box Office Mojo and exceeded the $27.8 million total for the Lego sequel.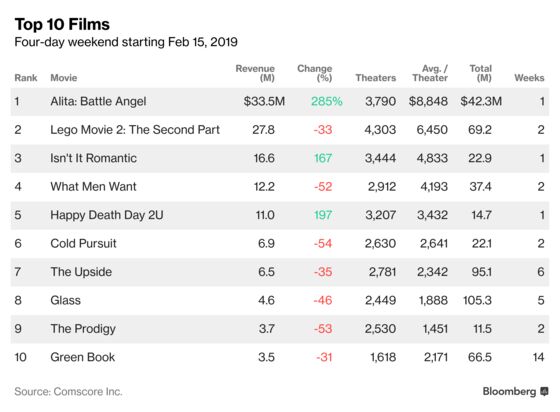 The Lego movie's performance has raised concerns about the franchise -- a would-be growth driver for AT&T Inc.'s Warner Bros. Its debut weekend generated far less revenue than predicted, even after favorable reviews.
More broadly, the North American movie industry has gotten off to a slow start this year -- and the strong showing of "Black Panther" in February 2018 will probably make this month look especially anemic in comparison.
Among other newcomers, the satirical comedy "Isn't It Romantic" starring Rebel Wilson placed third with $16.6 million, and horror movie "Happy Death Day 2U" came in fifth place with $11 million, little more than half the estimate from Box Office Mojo.