Schwab-Ameritrade Deal Seen Good, And Bad, for Toronto-Dominion
(Bloomberg) -- A potential acquisition of TD Ameritrade by Charles Schwab Corp. could help Toronto-Dominion Bank expand in the U.S. but eat into earnings, depending on the ultimate structure of any deal.
Charles Schwab is nearing a deal to acquire the U.S. discount broker that's 43% owned by Toronto-Dominion, according to a person familiar with the matter. Schwab's purchase of TD Ameritrade would create a $5 trillion titan that would be better positioned to weather the challenges facing today's brokerages, which include price conscious clients and a low interest rate environment.
Toronto-Dominion may end up with a 10% to 15% stake in the combined entity, assuming an "all-stock transaction and no additional deal twists," National Bank Financial analyst Gabriel Dechaine said Thursday in a note to clients. A smaller stake would be easier to sell.
"Assuming a smaller stake in a bigger player situation, TD could have a more liquid asset that it could potentially sell to finance a future U.S. regional bank acquisition," Dechaine said. "As such, it would make it easier for TD to make future acquisitions accretive."
Toronto-Dominion shares rose 0.1% to C$76.65 at 11:25 a.m. in Toronto.
Toronto-Dominion's investment in TD Ameritrade has helped the Canadian lender boost earnings from the U.S. over the years, with the stake contributing $650 million to U.S. retail earnings in the first three fiscal quarters of this year. Ameritrade's contribution accounted for about 6.6% of overall profit at the Toronto-based lender in 2018, according to financial disclosures.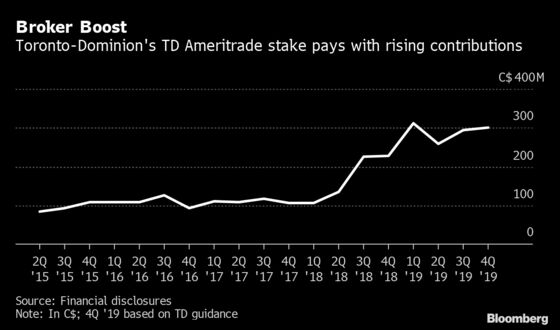 Toronto-Dominion's stake in Ameritrade was valued at about C$12.7 billion ($9.5 billion) as of Wednesday's close compared with a carrying value of C$9.1 billion in the third quarter, Dechaine said.
Barclays Plc analyst John Aiken also saw a potential deal as "positive" for near-term sentiment on Toronto-Dominion, given the uncertainty in the ebrokerage industry.
"The critical factor will be to what degree TD's earnings contribution from TD Ameritrade (either directly or through the deposit agreement) will be impacted and how any decline can be mitigated," Aiken said.
That also worried, Meny Grauman, an analyst at Cormark Securities. Toronto-Dominion's implications are "somewhat dependent on the deal structure, but the big picture is not positive from an earnings perspective and we would argue from a strategic perspective as well."
Longer term, some questions remain -- "some good, some bad," Dechaine said.
One is the future of Toronto-Dominion's agreement with TD Ameritrade over sweep deposits, the uninvested cash that brokers place at a bank. Currently, TD Ameritrade shifts its deposits to Toronto-Dominion's balance sheet, for a fee, in an arrangement that generates about C$275 million to the bank. Schwab, which has its own bank, may prefer to keep that revenue stream to itself, Dechaine said, creating a risk for Toronto-Dominion.
TD Ameritrade was formed in 2006 after Toronto-Dominion sold its own U.S. brokerage operation to Ameritrade Holding Corp., and received part of the combined entity in exchange.