Saudi Stocks Get Swept Up in EM Selloff to Fall Most Since 2016
(Bloomberg) -- Saudi Arabian stocks, the most expensive in the six-nation Gulf Cooperation Council, tumbled to a six-month low as demand for risk assets waned.
The Tadawul All Share Index plummeted 3.1 percent, dragging the gauge below its 200-day moving average for the first time since December. The measure's drop is the biggest in the world after the plunge in Indonesian stocks on Wednesday.
Index's 12-month price-to-earnings ratio fell to 13.3. It's still considerably higher than the ratio for MSCI Inc.'s index for emerging-market stocks, which has fallen to 11
Al Rajhi Bank's 3 percent drop was the biggest drag on the gauge
175 out of the 185 members of the Tadawul retreated, the most since April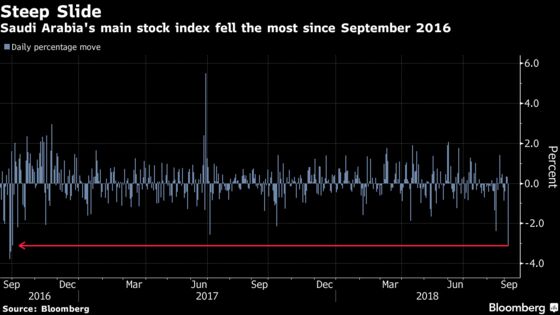 "Market reaction today is in response to broader concerns across emerging markets," said Asim Bukhtiar, Saudi Fransi Capital's head of research for capital markets. "Weakening in EM currencies could render Saudi exports less competitive."
Saudi shares got caught up in an emerging-market selloff as a rising dollar and the end of cheap money is starting to sap demand for risky assets. The kingdom, whose equities are set to join MSCI's developing nation index next year, has been gradually loosening restrictions for foreign investors as it seeks to diversify its revenue away from oil. An initial public offering of state-owned oil giant Aramco is part of its plan to develop the market.
Aramco's IPO was put on ice last month so the company can focus on buying a stake in local petrochemical group Sabic for as much as $70 billion. But there's no doubt that Aramco will eventually list its shares on the local stock market, Khalid Abdullah Al Hussan, the chief executive officer of the Saudi stock market, said in an interview in Riyadh on Wednesday.
That may have spurred the decline in stocks on Wednesday. Some analysts have said the offering could sap liquidity from the market, because investors would need to sell holdings in other companies to participate in the IPO.