Saudi Shares Drop While Bonds Gain After Austerity Measures
(Bloomberg) -- Saudi shares fell the most in the Gulf while sovereign bonds rose after the government tripled the value-added tax and cut allowances for state workers in austerity measures to cope with the economic impact of the coronavirus pandemic and the drop in oil prices.
The Tadawul All Share Index retreated as much as 3.5% in Riyadh, before trimming losses to 1.2% at the close. Al Rajhi Bank, National Commercial Bank and Saudi Aramco pressured the benchmark the most, sliding by between 0.8% and 2.4%.
The kingdom's dollar bonds gained, with the security due 2060 leading the advance. The yield on the debt fell 7 basis points to 4.42%, the lowest level since it was issued almost a month ago.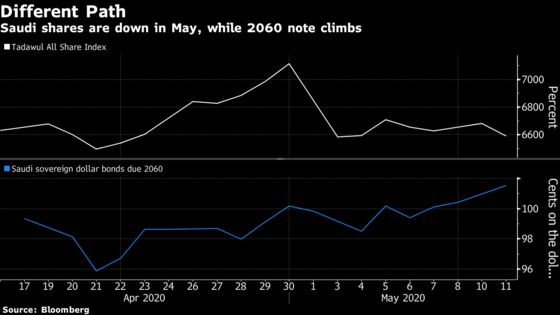 While "painful," the measures are "necessary and beneficial to protect fiscal and economic stability in the short and long term," Finance Minister Mohammed Al-Jadaan said in a statement carried by the Saudi Press Agency. The steps taken are valued at about 100 billion riyals ($26.6 billion).
What analysts and investors are saying:
Ehsan Khoman, head of Middle Eastern research at MUFG Bank in Dubai:

"With the oil price required for the budget to balance at just under $80 a barrel in 2020, these bold, decisive and necessary austerity measures are paramount to prevent a rapid deterioration of wealth buffers."
"However, our forecasts continue to point

towards

a -15.2% of GDP fiscal shortfall in 2020, and our expectations that domestic demand will contract by more than 4% this year remain unchanged."
"Although the broad commitment to reform remains in place, there appears to be a realistic rethinking of several aspects of the development plan to ensure robust execution."

Marwan Shurrab, head of high-net-worth and retail equities brokerage at Al Ramz Capital in Dubai:

Describes the measure as "needed to deal with the pandemic that we are facing today, and the revenue decrease that we saw due to the oil price plunge."
When looking at stocks, "the increase in VAT will impact all sectors in the economy, and that will impact the whole market. Yes, we will see change in sentiment. We will see pressure, but nevertheless, this is something that is needed; certain austerity measures are needed at times when you're required to act."
"I don't expect the U.A.E. or other neighboring countries to follow suit with such increase in VAT."

Angad Rajpal, the head of fixed income at Emirates NBD Asset Management in Dubai:

"With these drastic steps the kingdom is rightfully attempting to improve the uncomfortable balance between short-term pain and long-term fiscal consolidation."
"I don't think the fiscal restraint would alleviate the need for Saudi Arabia to tap external market again in 2020, but it strikes the right chord to maintain continued market access at reasonable spread levels."
"We see value in Saudi Arabia's bonds especially, in the long end. However, the spread pick-up also reflects the risk of persistent supply. At these levels, we remain neutral on the kingdom."

Todd Schubert, Singapore-based head of fixed-income research at Bank of Singapore Ltd.:

"The combination of the oil price war and the economic hit from Covid-19 will place a huge strain on the fiscal position of Saudi."
"These measures, beyond their practical impact, are a strong signal to the market that the kingdom is serious about getting its fiscal house in order. We would view this as a positive sign for the sovereign bonds."