Saudi Shares End Lower After Whipsawing on Erdogan's Speech
(Bloomberg) -- Saudi stocks ended lower for a second day Tuesday, after fluctuating between losses and gains and briefly repeating a pattern in recent sessions of rallies that have triggered speculation state-backed funds are supporting the market.
The Tadawul All Share Index closed down 1.3 percent in Riyadh, with large caps including Al Rajhi Bank, Saudi Basic Industries Corp. and Samba Financial Group contributing the most to the drop. The benchmark had earlier risen as much as 0.7 percent, reversing a loss of as much as much as 1.8 percent.
Prices began recovering as Turkish President Recep Tayyip Erdogan gave a speech in Ankara, in which he said the killing of journalist Jamal Khashoggi in the Saudi consulate in Istanbul was meticulously planned, rejecting Riyadh's claims that it was an accident. Turkey's president had vowed earlier to reveal what happened to Khashoggi "in all its nakedness" when he addressed lawmakers. The index flipped back to negative territory about 15 minutes before the end of trading.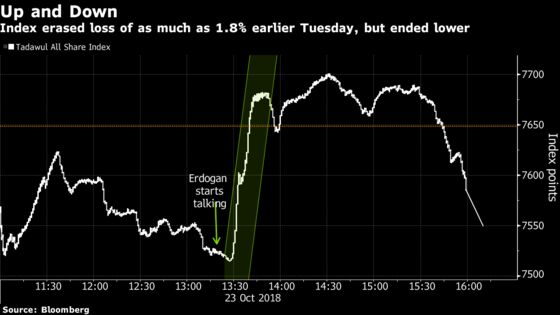 "I think Erdogan pulled his punches a little bit, because rather than the 'full truth in all its nakedness,' what we heard is what was pretty much already out there in the public domain," said Julian Rimmer, a trader at Investec Bank Plc in London. "The Turks will sustain pressure on the Saudis by the continual -- and extremely damaging -- drip-leakage of information and grisly details, which keeps the Saudis on the back foot."
Erdogan refrained from implicating King Salman, saying he had no doubts about the elderly royal's sincerity. But he pointedly didn't mention the power behind the throne, Crown Prince Mohammed bin Salman, who's been ruthlessly consolidating power at home while crafting an image abroad as a modernizer and reformer.
Saudi Arabia on Tuesday announced the signing of more than 25 deals totaling about $50 billion, ranging from energy to metals at its flagship investment forum, even as dozens of top bankers, chief executives and foreign dignitaries canceled plans to attend. Saudi Energy Minister Khalid Al-Falih also said at the event that the country doesn't rule out boosting oil production.
Saudi shares have rallied and slumped amid the fallout from Khashoggi's murder in the past week, prompting speculation that funds tied to the government could be propping up the securities. The recovery in most of the recent days happened near the end of the session. On Monday, the gauge started reversing a 3.2 percent drop about 30 minutes before the close, to end the day just 0.2 percent lower.
Erdogan's speech "failed to bring anything substantial and markets were expecting something different. This pushed the Saudi market markets higher," said Naeem Aslam, the chief market analyst at Think Markets UK in London. "However, one doesn't know who is buying it, given the lack of transparency. But we think that this whole scandal may be easing off from here onwards."