Saudi Schools IPO Underscores Weakening Foreign Demand
(Bloomberg) -- A Saudi private-school operator's initial public offering in October attracted less demand than recent previous sales in the kingdom, two people with knowledge of the matter said, a further indication that investors abroad are cautious about the potential economic aftermath of dissident columnist Jamal Khashoggi's murder a month ago.
Purchase orders in National Co. for Learning & Education's 247 million-riyal ($66 million) sale of a 30 percent stake totaled less than double the stock offered to institutional investors, according to the people, speaking on condition of anonymity as they weren't authorized to comment publicly on the deal. That compares with buyers seeking eight times available stock in Leejam Sports Co.'s $218 million share sale in August. The fitness-club chain received strong demand from foreign institutional investors, who were mostly absent in the case of NCLE, according to the people.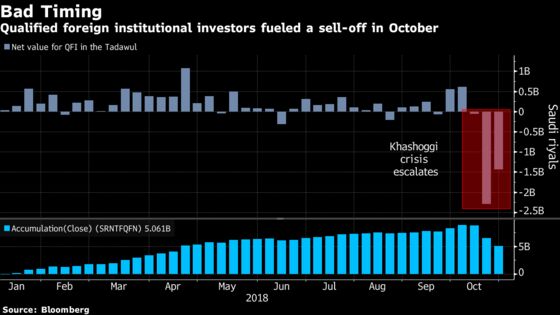 There is no date set yet for NCLE's stock to start trading in Riyadh. The school operator's investor-relations department didn't reply to phone calls or emails seeking comment on the IPO.
Bankers were marketing NCLE's shares in a tough environment, with a volatility measure for the main Saudi stock gauge in mid-October climbing to the highest level since early 2016 in the wake of Khashoggi's death at the kingdom's consulate in Istanbul. Foreigners and local individuals have accelerated stock sales amid concerns the murder will prompt international sanctions against Saudi Arabia. Even so, the main stock gauge has frequently ended on a high note as the disposals were countered by stepped-up purchases from institutional investors based in the kingdom.
Ninety percent of the NCLE offering was intended for institutional investors, with the remaining 10 percent being placed among retail buyers. The financial adviser for the sale was Aldukheil Financial Group, with Alinma Investment as the lead manager, according to the prospectus. NCB Capital, Alinma Bank and Riyad Bank were the receiving banks of the IPO.