Saudi Prince Alwaleed's Brother Released After Reported Arrest
(Bloomberg) -- The brother of Saudi Arabia's billionaire Prince Alwaleed bin Talal was welcomed home this weekend after reportedly being detained for nearly a year, according to posts from relatives on Twitter.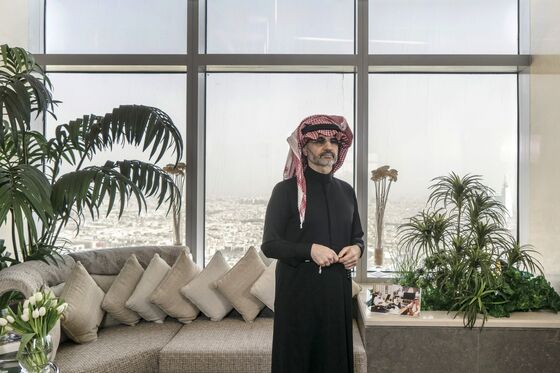 The release of Prince Khaled bin Talal came as the Saudi royal family grapples with fallout from the murder of Saudi journalist Jamal Khashoggi, a government insider turned critic.
Relatives of Prince Khaled shared photos of him embracing his son, who's been in a coma for years. "Thank God for your safety," Princess Reem bint Alwaleed, Prince Khaled's niece, wrote on her verified Twitter account -- using a common Arabic phrase for welcoming someone home. It was not clear why Prince Khaled was detained or why he was released, and the government didn't immediately respond on Saturday to a request for comment.
Prince Khaled was arrested late last year, weeks after the detention of his billionaire brother in a controversial anti-corruption campaign led by Crown Prince Mohammed bin Salman, the Wall Street Journal reported. The 33-year-old son of King Salman has shaken the conservative kingdom over the past few years, clamping down politically while he oversees major economic and social changes to diversify the country away from oil. Dozens of prominent princes, businessmen, government officials, clerics and women's rights activists have been detained over the past year, with some facing trial and potential execution.
"Certainly Mohammed bin Salman and his father are under pressure to realign within the royal family," said Kamran Bokhari, senior lecturer on Middle Eastern geopolitics at the University of Ottawa's Professional Development Institute. "The release of Khaled bin Talal does suggest that there is some give and take underway to shore up support for the Crown Prince. It is a sign that all is not well within the Al Saud family. Just how bad it is remains unclear."
Khashoggi's murder by Saudi agents at the kingdom's consulate in Istanbul last month has led to a global outcry and an internal crisis that many Saudis privately put on par with reaction to the Sept. 11, 2001, attacks in the U.S., in which 15 of the 19 hijackers were Saudi. Khashoggi's killing is being investigated by Turkish and Saudi authorities, and the Saudi government has vehemently denied that Prince Mohammed played a role while detaining 18 people in the case and firing two top officials.
Publicly, the royal family has maintained firm support for the heir to the throne.
"People who think there's going to be any change in the succession are wrong," Prince Turki Al Faisal, a senior royal and former intelligence chief, said in an interview with the Washington Post recently. "Saudis feel that their leader is being unfairly attacked in the foreign media. That's true of the royal family, as well."
Last week, the king's full brother, Prince Ahmed -- who stirred controversy after ambiguous remarks in London that some interpreted as a sign of royal discord -- returned to Saudi Arabia.
Prince Khaled's brother, Alwaleed, was himself released from detention in January. In interviews, he's said that he was cleared of all allegations of wrongdoing and is supportive of the crown prince. He recently appeared smiling alongside him at a Riyadh investment conference.