Saudi Business Activity Expands at Fastest Pace Since 2017
Business conditions in Saudi Arabia improved at the quickest pace in more than three years in May, helped by further easing in virus-related restrictions.
The kingdom's Purchasing Managers' Index survey compiled by IHS Markit rose to the highest since January, supported by an increase in new business along with an uptick in export orders. The pace of expansion was the fastest since December 2017.
Employment in the Arab world's largest economy also gained slightly last month as some private sector firms expanded their capacity. "Firms often cited growth in new business and a notable pick up in export sales," said David Owen, economist at IHS Markit.
"Most firms continued to operate with unchanged workforce numbers, suggesting a focus on boosting productivity back to pre-Covid levels," he said. "On the plus side, inventories were increased at the quickest pace in a year-and-a-half as firms prepare for a further recovery in demand over the coming months."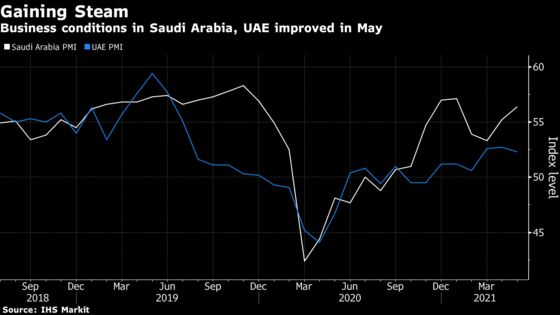 In neighboring United Arab Emirates, the non-oil private sector economy improved at a slower pace compared with the previous month. Local demand was better and while job figures continued to fall, output levels rose.
There was further deterioration in activity in Egypt's non-oil private sector, extending a downturn in place since the end of 2020. The rate of contraction was the softest in three months, though, as weak demand was partly offset by improving conditions in some areas of the economy.
Saudi Arabia's PMI rose to 56.4 in May from 55.2 in April

Firms built their inventories at the fastest rate in 18 months
Better

market conditions

helped increase customer orders. New orders rose at the fastest rate in four months
Export orders rose at the quickest pace since 2015 as global demand strengthened
Business expectations improved to the highest in three months, amid hopes of further recovery over the next year
Job creation increased for a second month, but at a softer rate from the previous month

UAE PMI fell to 52.3 last month versus 52.7 in April

New orders were mainly helped by better domestic sales, though international orders were held back by pandemic restrictions in some places
Competitive pressure along with virus-linked uncertainty led to fewer orders, leading firms to reduce prices
Employment fell for the fourth month as some firms cut their staff because of cash flow issues, though most kept headcount unchanged
There was a slight slump in supplier performance which continued the trend seen since the start of the year
Business outlook for the coming year rose for a sixth month and to the highest since July amid hopes of a recovery from the pandemic and ahead of Expo 2020

Egypt PMI rose to 48.6 last month from 47.7 in April

While output remains weak, there's optimism for year ahead; the outlook for business activity is at strongest since February 2018
Rate of job losses has eased from the start of the second quarter