Saudi Bonds Drop as Row With U.S. Over Missing Writer Escalates
(Bloomberg) -- The growing diplomatic row over the disappearance of Saudi columnist Jamal Khashoggi reverberated through the country's bond market.
The yield on the kingdom's $5 billion debt due 2028 jumped to a record and 12-month riyal forwards earlier posted their biggest jump in more than three years in the offshore market. The Tadawul All Share Index added 4.1 percent, the most in the world, rebounding from Sunday's retreat amid speculation government-related funds are boosting the securities.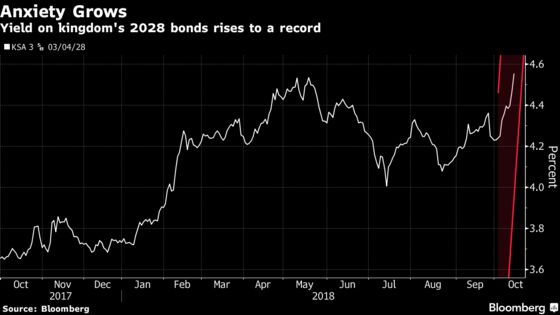 The U.S. administration is weighing action against its Middle Eastern ally over the disappearance of Khashoggi, a Washington Post columnist who was critical of the Saudi leadership. Saudi Arabia has denied accusations that it murdered the journalist and has begun an internal investigation into his fate.
The escalation in tension between the Gulf state and the U.S. has raised concerns about whether Saudi Arabia can attract the foreign investors needed to overhaul its economy. The nation has been reforming its financial markets and has won inclusion in FTSE Russell and MSCI Inc. indexes for emerging markets.
The yield on the kingdom's debt climbed eight basis points to 4.55 percent as of 1:18 p.m. in London, and riyal forwards soared 27 percent to 80, after jumping as much as 70 percent earlier. Saudi Basic Industries Corp. and National Commercial Bank were the biggest contributors to stock gauge's gain, rising 3.7 percent and 4.7 percent, respectively.
Joice Mathew, the Muscat-based head of equity research at United Securities, said the kingdom's sovereign wealth fund, the Public Investment Fund, is probably responsible for the stock index's advance. A spokesman for the fund didn't immediately respond to a request for comment.
Given the political uncertainties, the move in the equity market is unlikely to be driven by foreigners, said Mathew. "It has to be PIF, and if we look at the trading pattern of PIF, we have seen them buying aggressively at the market open and close. If it's not them or PIF-linked funds, the market shouldn't be up 2 percent in 5 minutes. It's obvious that yesterday's closing was staged, and I think their intervention will continue."
The Tadawul index on Sunday sank as much as 7 percent before paring its drop to 3.5 percent at the close.