Saudi Tycoons Expand Fortune as Grocery Chain Soars After IPO
The BinDawood family's fortune soared after shares in their eponymous Saudi Arabian grocery business rose by 10% on their first day of trading.
Members of the family own a 67% stake worth about $2.2 billion in BinDawood Holding Co., according to Bloomberg calculations based on the IPO prospectus. They also raised about $500 million from the initial public offering.
BinDawood is one of the biggest grocery chains in Saudi Arabia, operating upmarket stores under the Danube brand and mass-market stores under the BinDawood brand. It was founded in 1984 by Khaled Dawood Ibrahim BinDawood and has since grown to operate more than 70 stores.
The stock surged on Wednesday in Riyadh, rising to 105.60 riyals from the 96 riyals ($25.60) offer price. The shares had already been priced at the top end of the marketed range after the deal was about 50 times oversubscribed and the IPO received $29 billion in bids.
BinDawood had been been one of the few Saudi grocery chains to invest in its online platform and delivery ahead of the coronavirus outbreak, said Walid Majdalani, head of private equity for the Middle East at Investcorp, which invested in the company in 2016.
"It was an untapped market and BinDawood really hit the jackpot," Majdalani said. Investcorp raised about $41 million selling some of its shares in the IPO, with the rest of its holding now worth $180 million at the end of the first day's trading.
At least nine members of the BinDawood family hold about two thirds of the company's shares through Akasiya Star Trading Co. BinDawood said its first-half profit rose by 82% as consumers flocked to its online and delivery channels amid a lockdown to prevent the spread of the coronavirus pandemic.
The IPO also comes amid a boom in online retail spending and as Saudi Arabia sees more companies listing on the local exchange, known as Tadawul. A sub-index tracking food and staples retailers in the kingdom is up 71% this year, compared to a 1.9% gain for the benchmark Tadawul All Share index.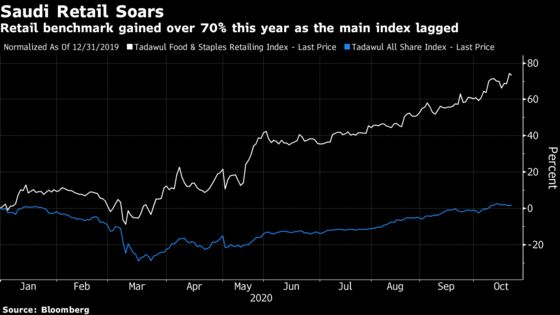 BinDawood's offering of a 20% stake was the second-biggest IPO in Saudi Arabia this year, after Dr. Sulaiman Al Habib Medical Services Group's listing in March. That stock has nearly doubled since it started trading.
Al Rajhi Capital expects the shares to climb about 20% from the current level, according to a report on Wednesday that initiated coverage with an overweight rating and a target price of 126 riyals.
"We expect the company's e-commerce to drive like-for-like growth in the future," Al Rajhi analyst Pratik Khandelwal said in the note. He expects BinDawood to open three stores per year between 2021 to 2024, with online sales driving growth. "This should also support the gross margins going forward," according to Khandelwal.