Saudi Arabia Suspends Mecca Pilgrimage Visas on Coronavirus
(Bloomberg) -- Saudi Arabia took the rare step of suspending religious pilgrimage trips to the kingdom and limiting entry by tourists to help prevent the spread of coronavirus.
Muslim pilgrims traveling to perform the non-compulsory Umrah ritual in the holy city of Mecca or visit a sacred site in Medina won't be allowed to enter, nor will tourists from countries "where the spread of coronavirus represents a danger," according to a Foreign Ministry statement. Pilgrimages by foreign residents, citizens and visitors already in the nation appeared to be continuing as usual on Thursday.
The statement didn't identify the countries, but Emirates Airlines said on its website that entry was also banned to tourist visa holders coming from 23 destinations including China, Hong Kong, Macau, Iran, Italy, South Korea, Japan and Thailand. It wasn't immediately clear whether that applied to the country passengers were traveling from, their nationality or both.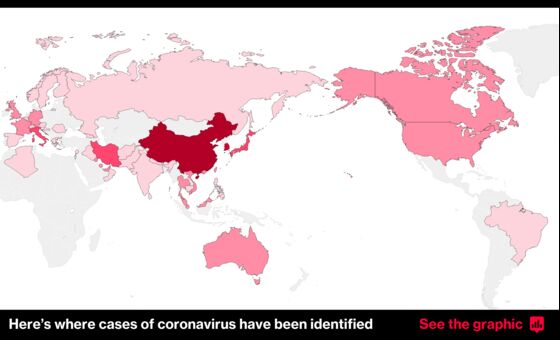 The steps are temporary and subject to ongoing evaluation, according to the Foreign Ministry statement, which was published by the official Saudi Press Agency. The restrictions don't apply to the compulsory and better-known Hajj pilgrimage, which doesn't begin this year until the end of July.
No infections had been reported by Saudi Arabian authorities as of Wednesday. But the government is acting preventively after neighboring countries including Kuwait, Bahrain, Iraq and the United Arab Emirates flagged dozens of cases.
Tourism currently accounts for about 3% of Saudi Arabia's gross domestic product, and the new travel restrictions create a hiccup for efforts to develop the industry as a new non-oil sector. Suspending religious visits, a source of income and national pride, is a particularly dramatic step for the steward of Islam's holiest sites.

Shares of Jabal Omar Development Company, which owns several hotels in Mecca, ended 6.6% lower on Thursday, the biggest daily drop since 2016. The move could also affect Emirates, which operates 84 weekly flights to the kingdom and gets 50% of its Middle East revenue from Saudi Arabia.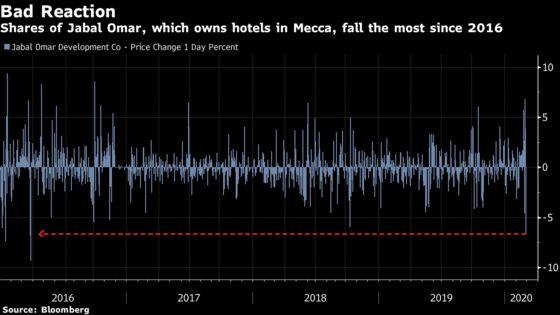 Mecca, birthplace of the Prophet Muhammad, is home to Islam's holiest site inside the Grand Mosque. Medina is where Islam's founder is buried. The Umrah pilgrimage alone brought almost 7 million visitors from October 2018 to May 2019, according to government data.
The fasting month of Ramadan -- a favored period for Umrah pilgrimages to Mecca -- starts toward the end of April.
"Pilgrimage visits are the main source of tourism into the country," said Monica Malik, chief economist at Abu Dhabi Commercial Bank. "Though this isn't a key driver of economic activity, the measure could have impact on private consumption. However, this is an important precautionary move and much will depend on how long the measures last."
Crown Prince Mohammed bin Salman's economic transformation plan identified Islamic pilgrimage as a key source of non-oil revenue. Officials want to attract 30 million Umrah visitors per year by 2030.
Cases of the novel coronavirus in neighboring Gulf Arab countries have been traced to Iran, which has reported 245 infections, including 26 deaths. Kuwait has reported 43 cases, Bahrain 33 and the United Arab Emirates 13, while Oman has reported 4. Bahrain's cases include four Saudi women who had been visiting Iran and are being treated in Bahrain until they recover, the Saudi Health Ministry said on its Twitter account.
The epicenter of the disease in Iran is itself a holy city for many Muslims. The city of Qom earlier this week banned one of Shiite Islam's holiest shrines from holding religious ceremonies in an attempt to contain the spread of the virus. On Wednesday, it was still open with pilgrims pushing at fences erected to stop them kissing the gilded shrine.
In 2012, a coronavirus called Middle East Respiratory Syndrome that was first identified in Saudi Arabia eventually spread to more than 20 countries. However there were only about 2,500 cases identified worldwide through this year. The kingdom is still dealing with smaller outbreaks of MERS, with six cases in a southern hospital earlier this year, including one death, according to the World Health Organization.