Santander Sending Most Workers Into the Office in Virus Hotbed
One of the world's biggest banks has staged a mass return to the office in a country where the number of Covid-19 infections surged by 1 million just in the past month.
About 60% of administrative staff at Banco Santander SA's Brazilian unit -- including some investment bankers and those in asset management -- are now back at their desks, while rivals have kept the majority of office workers home, a review of earnings statements shows. Santander, which had 46,348 employees in Brazil as of June, doesn't disclose how many are office or branch workers.
Chief Executive Officer Sergio Rial discussed the issue during an earnings call with reporters, adding the bank has taken measures for a safe return, including requiring appropriate social distancing. No employee who falls into higher-risk groups has come back, he said.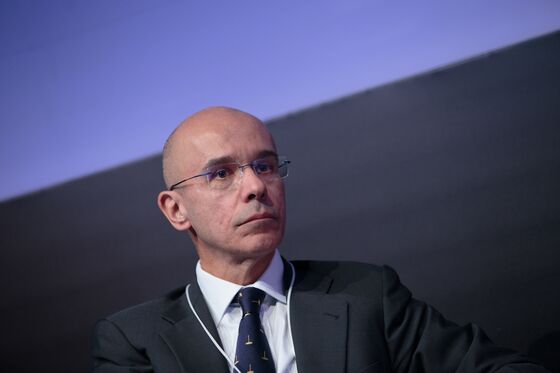 "Santander has taken a totally different approach from the rest of the banking sector, which hasn't been asking employees to come back," said Ivone Silva, head of the bank workers' union in the Sao Paulo region, which opposes the large-scale return at a critical moment in Brazil's outbreak and without widespread testing. Latin America's largest nation has reported 3.36 million Covid-19 cases and almost 110,000 deaths.
Silva said she visited the lender's Sao Paulo headquarters in early August, and found that employees were wearing masks, floors were marked with red dots for social distancing and access to elevators was limited, causing long lines in the lobby. Elevators are carrying no more than five passengers at a time, with some of the employees having to wait half an hour, she said.
The bank told the union it has tried to avoid crowded conditions during the early morning rush and at lunch by staggering employees' hours. Employees are required to schedule lunch breaks through a system and the bank turned the rooftop of a nearby building into a cafeteria. About 6,500 employees work in the Sao Paulo headquarters, the union said, which houses the bank's top management in the nation and units like investment banking and wealth and asset management.
While there have been no known outbreaks at the bank since workers began returning, there's still unease about coming back, the union said. Some employees have filed complaints with the union about breaches in protocol, such as unmasked workers conversing in hallways.
A Santander representative declined to comment.
Most of the the biggest U.S. banks have been telling investors it's still too soon to offer detailed return-to-office schedules. Citigroup Inc. said it's likely that less than half the workforce will return before a coronavirus vaccine is developed, while Bank of America Corp. has fewer than 15% of employees working in offices.
Even compared with Brazilian rivals, Santander stands out. Itau Unibanco Holding SA said in a filing that 97% of its central office, service center and digital branch employees -- about 55,000 people -- are still working from home. The lender announced last week it will postpone a return to offices until January.
"There is no reason to expose employees to risk if remote working is so efficient," CEO Candido Bracher said during a press conference.
Osasco-based Banco Bradesco SA has kept 94% of its headquarters and office employees working remotely, according to a filing. No return date has been set, Bradesco said in a statement.
Brazil's response to the coronavirus crisis has been plagued by political infighting and the disease is now spreading to more remote regions, even as it recedes in populated urban centers like Sao Paulo.
Some employees didn't have a choice about working remotely since brick-and-mortar branches -- which account for a sizeable share of banks' workforces -- were deemed essential services and kept open throughout Brazil, though sometimes with restricted hours. Banks said they have increased cleaning protocols and reduced the number of people in branches. Bradesco is rotating half of its branch employees each week.
Santander's Rial said he doesn't expect working remotely to become the new norm after the pandemic subsides.
"I don't see it as a big revolution," he said during the earnings press conference. "It's no panacea or as transforming as thought."