Santander Picks a Dealmaker for CEO. Why?
(Bloomberg Opinion) -- It must start to grate. A lifetime spent advising CEOs on their deals but never being top dog yourself. Andrea Orcel, UBS Group AG's top dealmaker, now has the chance to correct that. He's off to become chief executive officer of Banco Santander SA.
It's not a complete surprise that he's landed there. He was close to Emilio Botin, the Spanish lender's late chairman, and worked on acquisitions including its 2004 takeover of Britain's Abbey National Plc. He also counselled Royal Bank of Scotland Group Plc on its ill-fated 72 billion-euro ($84.8 billion) acquisition of ABN Amro Holding NV — with partners that included Santander.
Is his appointment a sign the Spanish bank will return to that kind of acquisition spree under Orcel? It's an obvious conclusion to draw, but it seems a stretch in the current regulatory climate. What transactions there have been in financial services in recent months have been concentrated in insurance and asset management rather than consumer banking.
Santander shareholders, who have seen their stock trail the Bloomberg Europe Banks and Financial Services Index over the past 12 months, may also be reluctant to endorse further large-scale M&A.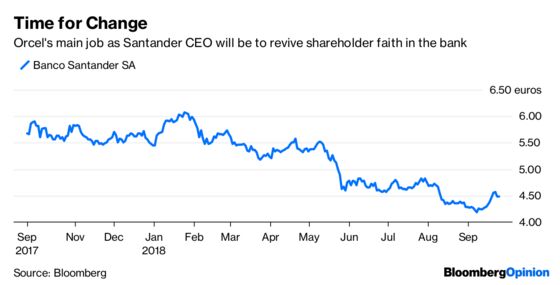 If that's the case, one has to wonder what Orcel, an ambitious M&A banker, will do at Santander other than serve as a possible successor to chairman Ana Botin. He isn't faced with a turnaround job like Christian Sewing's at Deutsche Bank AG. But narrowing his new employer's discount to its book value would certainly be a start for shareholders.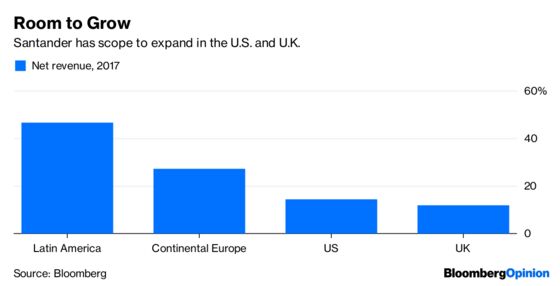 In moving to run a consumer bank, Orcel is taking a well-trodden path for ambitious dealmakers: Jes Staley left JPMorgan Chase & Co. to become CEO of Barclays Plc. Former RBS CEO Stephen Hester was a longtime employee of Credit Suisse First Boston. The results, to put it charitably, have been mixed. Orcel has the chance to correct that record, too.
This column does not necessarily reflect the opinion of the editorial board or Bloomberg LP and its owners.
Edward Evans is a managing editor with Bloomberg Opinion. He is former managing editor for European finance at Bloomberg News.