Sanofi Bets Late Covid Vaccines Can Play Role in Pandemic
(Bloomberg) -- French drugmaker Sanofi, a laggard in developing Covid-19 vaccines, defended its ongoing efforts by saying the shots could still have a role to play as the pandemic evolves.
Acknowledging the two products under development are "quite behind," Chief Financial Officer Jean-Baptiste de Chatillon told journalists that "with the evolution of the pandemic, they could find a place."
As variants emerge, drugmakers are working to tweak their vaccines to better defend against the new strains. They're also discussing the need for booster shots to buttress protection as the virus continues to circulate, kindling fresh outbreaks from India to Brazil.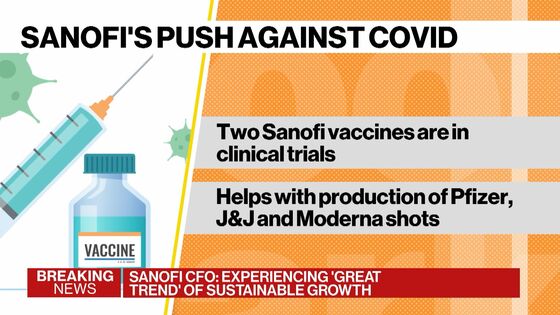 "When we see how the pandemic is unfolding in terms of variants, in terms of maybe being there for several years," Chatillon said in an interview with Bloomberg Television, "we think they could be very useful in the years to come."
The U.S.'s Biomedical Advanced Research and Development Authority, which is helping fund the effort, "is really asking us to go on working on our two candidates."
Sanofi said Wednesday it had started development work on emerging variants, which would inform the next stages of its vaccine-development program.
The Paris-based company has finished recruiting patients for a phase 2 study of its recombinant protein vaccine -- the more advanced of the two -- and expects results next month. That puts the product on track for potential approval the end of the year.
A second shot based on the messenger RNA technology used by leading vaccines made by Pfizer Inc. and partner BioNTech SE as well as Moderna Inc. is undergoing earlier clinical trials, with results expected in the third quarter.
Sanofi on Wednesday reported a 5% increase in first-quarter earnings. The stock rose as much as 1.9% in Paris trading.