Bernie Sanders, Elizabeth Warren Press Amazon About 'Illegal' Anti-Labor Push
(Bloomberg) -- Senators Bernie Sanders and Elizabeth Warren are pressing Amazon.com Inc. Chief Executive Officer Jeff Bezos about whether the company is illegally interfering with the right of Whole Foods workers to organize.
In a joint letter to Bezos dated Oct. 16, Warren and Sanders cited a leaked video that they said "expressed explicit opposition to union organizing on the part of Whole Foods employees and makes several statements that appear to direct supervisors to take actions that are illegal" under U.S. labor law, including anti-union threats.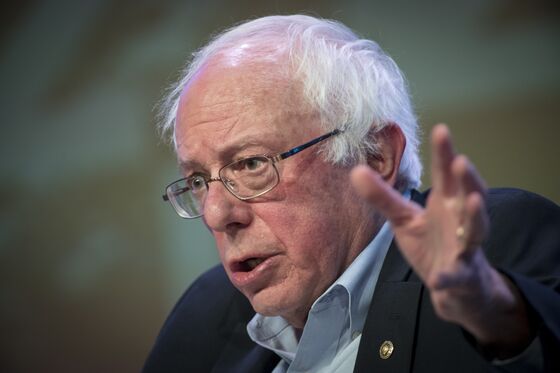 The two senators asked about which locations of Whole Foods Markets, the grocery chain amazon acquired last year, received the video, which was reported by Gizmodo. Sanders and Warren said in the letter that the video appears to violate the National Labor Relations Act, which gives workers the right to organize and bargain collectively.
"The video reportedly tells supervisors, 'you might need to talk about how having a union could hurt innovation, which could hurt customer obsession, which could ultimately threaten the building's continued existence,'" according to the letter.
"It is unclear how this statement could be reasonably interpreted as anything other than a threat that an employee's workplace may close if he or she supports a union or engages in union activity," Sanders and Warren said in the letter.
The senators also asked about the truth of reports that some employees who were "expressing concerns about working conditions" were fired and what steps the company is taking to make sure that the company isn't violating federal labor laws.
Amazon said in a statement it would respond to Sanders and Warren "directly."
"Amazon respects the individual rights of employees and has an open-door policy that encourages employees to bring their comments, questions, and concerns directly to their management team," the company said. "We firmly believe this direct connection is the most effective way to understand and respond to the needs of our workforce."
Sanders, a progressive Vermont independent, has previously tussled with the retail giant over wages and working conditions. Earlier in October, Amazon announced it would raise its minimum wage to $15 an hour, a move that Sanders praised, but that came after he introduced a bill that would tax Amazon, Walmart Inc. and other big employers whose workers collect public assistance. He called it the Stop Bad Employers by Zeroing Out Subsidies Act -- or Stop BEZOS.
After criticism that Amazon was eliminating bonuses and stock awards as part of the raises, the company also sweetened the deal with additional money for some employees.